July 29, 2021
July 2021 CSEEES FLAS Alumni Profile
Image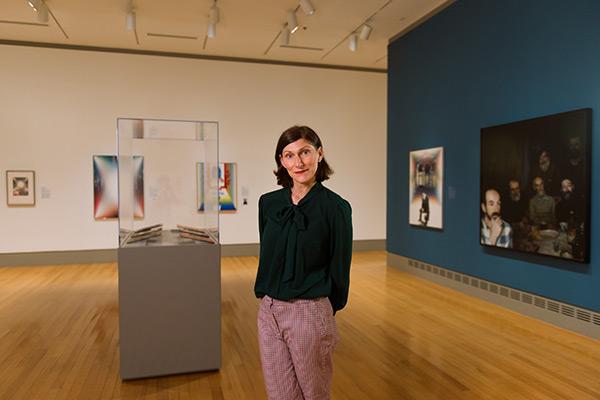 Description
Catherine Walworth, PhD in History of Art, Class of 2013
Academic Year 2009-10 & 2011 Summer FLAS Fellowship Recipient for Advanced Russian
Where do you work and what is your current position? 
I am Curator of Art at the Columbia Museum of Art in Columbia, South Carolina.
Tell us how you got there.
I had had curatorial fellowships before I went back for my Ph.D. in 2008, and then I had to reenter the museum field after a gap of 5 years. I got a terrific job working on Silver to Steel, an exhibition about mid-century industrial design in Pittsburgh (very Mad Men), and it was a perfect dovetail from the Russian Constructivists who had dreamed of entering the factory to make functional objects for the masses. After two years and a successful opening, I applied for the position in Columbia and moved to another new state. 
How has your degree from Ohio State and/or the FLAS program impacted your career?
I was able to do the best work of my life. I went back for my Ph.D. later in my career because I wanted to learn Russian and study Constructivism authentically. At OSU, I combined the Russian studies program, and the fact that OSU had an incredible specialist in the Department of History of Art with Dr. Myroslava Mudrak, to focus on Russian art history, but also fashion, film, and other modernist areas that I love. I received two FLAS grants, one for a year of study, and another for an intensive summer in Russia. These allowed me to focus, write, explore other departments, play with my ideas to find a new original space, and importantly, to spend a summer working on my Russian intensively and to do research. All of that led to my publishing my book Soviet Salvage: Imperial Debris, Revolutionary Reuse, and Russian Constructivism in 2017. I just opened an exhibition of Soviet unofficial art here at the CMA called The Ironic Curtain: Art from the Soviet Underground (July 3 - September 12, 2021), using Neil Rector's wonderful collection in Columbus.  
If you work in the non-profit, government, or private sector, what advice would you give to students considering jobs in those sectors?
The non-profit world is a different world, for sure. It means not much money, lots of passion, and concern with making an impact. Museums are a notoriously tough field to break into because there are so few jobs available. You have to be patient and gentle with yourself, because the right job will eventually come along but they're not falling off trees. Be prepared to find a new voice, too, in your writing that is less academic and more about reaching people with clarity and getting them excited about what you love. 
Photo by Drew Baron
---