November 24, 2021
November 2021 CSEEES Alumni Profile
Image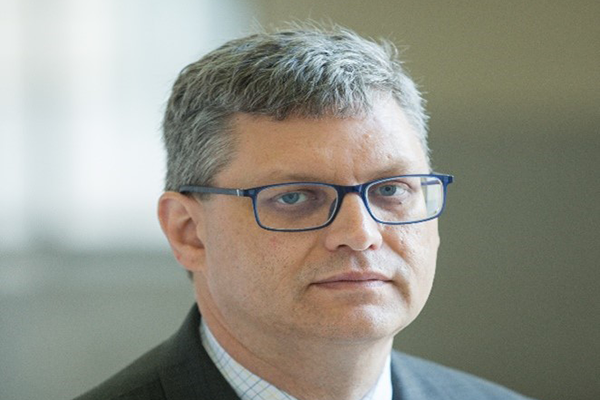 Description
Michael Corbin, Class of 1993
Where do you work and what is your current position?
I have been an International Trade Specialist for the last twenty-two years in the Office of Finance at the United States Department of Commerce's International Trade Agency. I worked exclusively on Russian financial services from approximately 1999 until 2013, when the crisis in Ukraine began, and since then I have been the lead for private pensions - helping U.S. companies address market access restrictions around the globe. I have developed programs and cooperated with various Russian government ministries and private sector companies to help develop best practices in insurance and private pensions in Russia. For example, I worked closely with the Ministry of Economic Development to develop an Insurance Information Center and participated in discussions with them on landmark private pension legislation passed by the Duma in 2002.
After the passage of the legislation, I worked closely with Vnesheconombank to help bring asset managers to train in the United States. I also have participated in several OECD conferences in Russia as an expert on the Russian private pension system and was invited to address the All-Russian Insurers' Union, Russia's largest insurance association.
In 2017, I was recommended by the Department of Commerce to receive a fellowship to the Woodrow Wilson Center for International Scholars and during my nine months there I studied the breakdown of pension systems in Eastern Europe (Hungary, Poland and Romania). I also had the opportunity to collaborate with the Kennan Institute and wrote a Kennan Cable on Russian trade with Asia and prepared a blog on Russian government efforts to raise the pension age in 2018. I really enjoyed the level of research and writing I was able to do as a Wilson fellow and would welcome the opportunity to engage in similar writing and analysis in the future.
How has your CSEEES MA helped you throughout your post graduate life?
My CSEEES MA has been integral to my success throughout my post-graduate life. At CSEEES, the MA allowed me to study a wide variety of subjects, from Soviet economics to sociology in Eastern Europe. In addition, given my background in economics, I received the opportunity to assist Professor Yuri Medvedkov on an independent research project studying the development of exchanges in the former Soviet Union. The project utilized my total skillset and provided me with the ability to analyze diverse subject matter, while using the Russian language. The project prepared me for many future research projects and given its economic and financial focus, encouraged me to seek and receive an M.S. in Finance from the University of Baltimore. I most likely would not have my current position without my M.S. in Finance, which perfectly complemented my CSEEES MA. I also would most likely not have received my first job at the World Bank without the commodities knowledge and experience gained from the study project.
What inspires you?
Naturally, as a graduate of CSEEES I have long found great inspiration from Russian arts and culture. From a young age, and as a child who was inspired by "The Miracle on Ice" in 1980, I was amazed by the great Soviet hockey teams, known for their precision and artistry. Moreover, as a young goaltender I was enthralled by the great Vladislav Tretyak for his technical and athletic creativity as well as his distinguished reputation as a gentleman and diplomat off the ice. As I got older and married a daughter of a symphony musician, the romanticism of the great Russian symphonies and grand Russian opera filled my soul. Upon reaching middle age I have become more reflective and contemplative and found new meaning in Russian literature.
As such, for me, Dostoevsky and Bulgakov have no equals in classic Russian literature. Although they lived in completely different eras, they both offer sharp analysis and often timeless criticism of their specific time in Russia or Soviet Russia. I enjoy well-crafted mysteries, in general, and Dostoevsky's Brothers Karamazov is both a great crime drama and one of the most insightful examinations of human spirituality ever written. Crime and Punishment and the short story, The Gambler, are also favorites.
Bulgakov's Master and Margarita provides a razor-sharp critique of Soviet society while at the same time cleverly discussing morality and spirituality through the works of Bezdomny and the Master, who in the novel are writing manuscripts on Christ and Pontius Pilate, respectively. I have read Master in both English and Russian and never cease to be challenged by Bulgakov's examination of good and evil and entertained by the cynical comedy provided by Woland (the devil) and his entourage. White Guard (Belaya Gvardiya) provides a timeless examination of the fissures which still exist in Ukrainian society.
I also find inspiration from two contemporary authors. Earlier, I mentioned my interest in crime dramas and my favorite in post-Soviet Russia is Boris Akunin's Fandorin series. I have read most of this series in Russian and watched a few movies based on the books. Each book in the series provides an excellent escape back into Russian history during the final grand decades of the Romanov dynasty at the end of the 19th century as Erast Fandorin (a sort of Russian Sherlock Holmes) battles political terrorists, corrupt bureaucrats and not-so 19th century Russian serial killers. At times I even feel that in my mind I am transformed into a minister-counsellor in Russia's Golden Age.
A second contemporary author who I find quite insightful is Eugene Vodolazkin. His novels Laurus, Solovyov and Larionov and The Aviator all present a contemporary view of classic Russian moral and spiritual, even Orthodox Christian, themes, even though these novels introduce us to characters who are for the most part searching the Russian and Soviet past for answers to problems in the present. I find this fitting for a country that derives so much pride and rich culture from a difficult past while being not so confident of its present and even less certain of its future.
---