July 25, 2023
CSEEES Academic Year 2023-2024 Undergraduate FLAS Fellows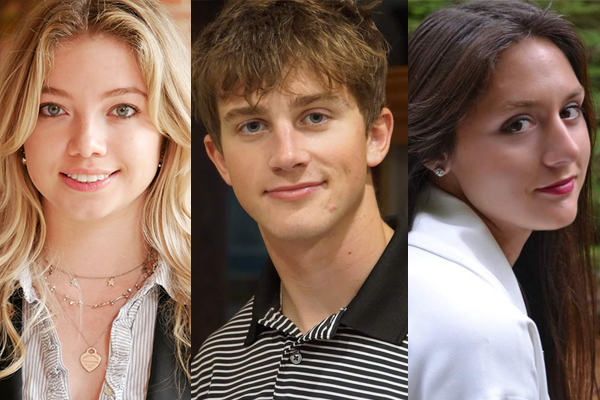 The Center for Slavic, East European and Eurasian Studies congratulates its four undergraduate Foreign Language and Area Studies (FLAS) Fellowship recipients for the 2023-2024 academic year.
Sophie Boelk, a Russian and French major, will study 3rd-year Russian. Sophie's long-term career goal is to use her language skills to become an interpreter working for the UN or a government organization.
Aimma Farooqui (not pictured) is majoring in Human Development and Family Science and Russian. She will study 4th-year Russian. Aimma's goal is to combine both of these interests to work as a physician and medical interpreter for Russian speakers, and at some point to work for Doctors without Borders.
Anna Lagergren is an undergraduate Finance and Russian double major with a minor in Entrepreneurship and Innovation who will study 3rd-year Russian. Russian proficiency will diversify her skills and make her more competitive in the international business environment.
Henry Schneider, a Computer Science and Engineering major and Russian minor, will enroll in 4th-year Russian.  Henry hopes to combine his language and technical skills to find a job in the cyber security field.
Academic year FLAS Fellowships are awarded to undergraduate, graduate, or professional students who are enrolled in a course of study at Ohio State that requires both language and area studies expertise. Students are required to take one language and one area studies course in both autumn and spring semesters, completing one academic year language sequence. For undergraduate students, it provides a stipend of $5,000 and tuition and fees up to $10,000. The application for summer 2024 fellowships will open in fall 2023.  
Read about this year's graduate FLAS Fellows here.
---