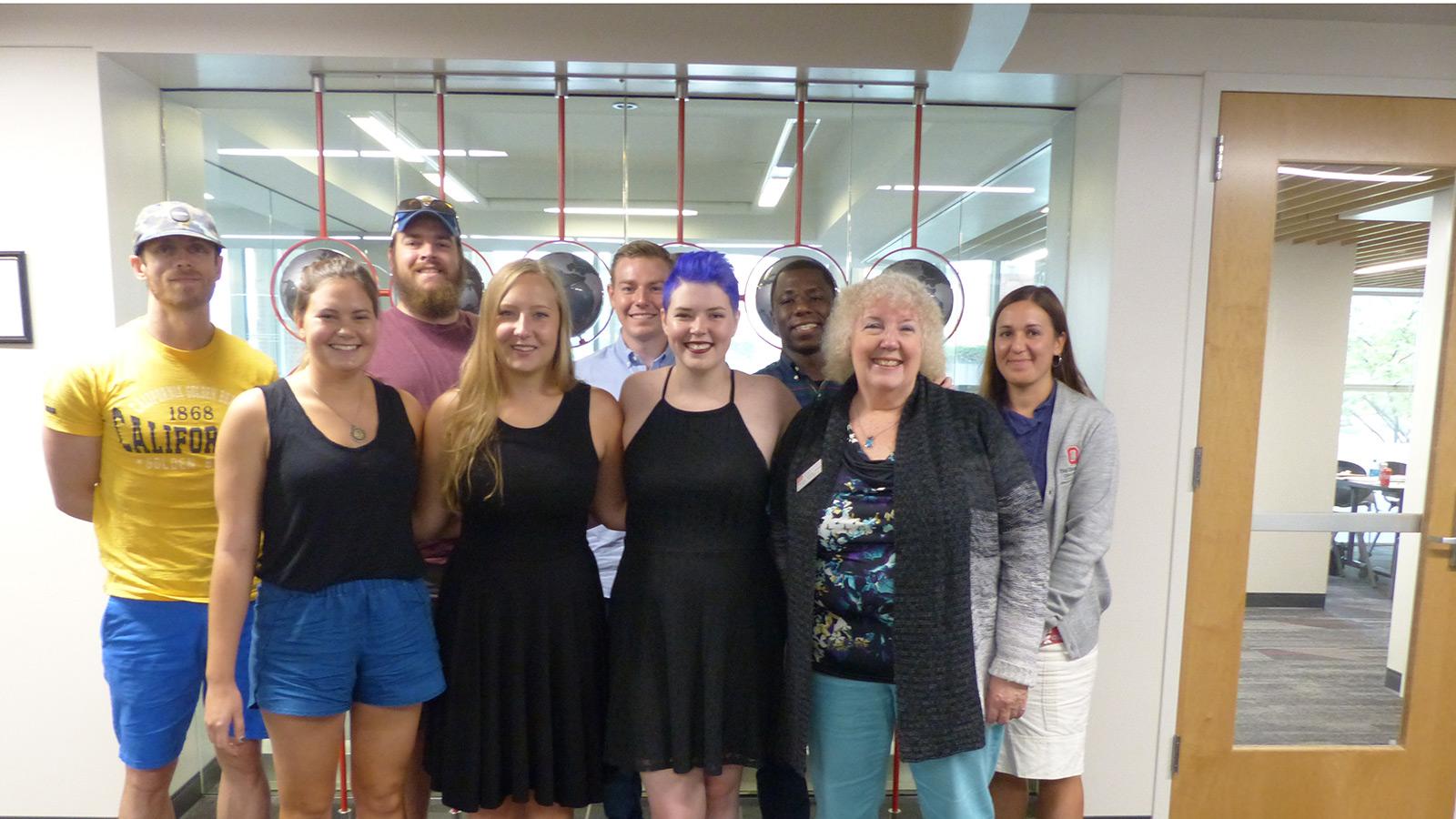 Overview
The MA in Slavic, East European and Eurasian Studies is an interdisciplinary, terminal degree offered by the Graduate School and administered by the Center for Slavic, East European and Eurasian Studies (CSEEES). Through the degree, students study several different fields and approaches in order to better understand a country, region, or people of Eastern Europe/Eurasia. It prepares graduates for work in the government, non-profit, and public sector, or to pursue a PhD. As part of the degree, students work closely with their advisor to select courses and develop a specialization, enabling the student to design the degree around their interests. The MA in Slavic, East European and Eurasian Studies is an area-studies degree that prepares students for careers in intelligence/security, non-governmental organizations, and the private sector, or to pursue further study in a PhD program or professional school.
Purpose
The CSEEES MA in Slavic, East European and Eurasian Studies is a terminal MA program that provides students with the language skills and regional knowledge to understand and analyze the events, culture, history, and politics of a region or country within Eastern Europe/Eurasia. Those wanting to pursue a PhD receive a foundation in the humanities and social sciences while developing a focused approach to the study of the countries of Eastern Europe and Eurasia.
Interdisciplinarity
The philosophy behind the interdisciplinary, area studies degree is that students learn about Eastern Europe and Eurasia by studying and using several different fields and approaches. Combining content from across the humanities, social sciences, and professional schools allows students to understand better a country or region and its peoples. Students gain a broader perspective of the region and can assess ideas and problems from a variety of angles. They are able to see how events and ideas overlap and feed into each other in the past, present, and future.
Placement Rate
Over 172 students have graduated from CSEEES since its first cohort in 1990. CSEEES graduates have gone on to successful careers in a variety of government intelligence and analysis agencies, the U.S. military, and Ohio National Guard, as well as at Franklin University, Google, the Government Accountability Office, Novetta, the Ohio Department of Transportation, StandWithUs, Ohio Office of Budget and Management, the National Investor Relations Institute, Northwestern University, and the University of Wisconsin. As outlined in the chart below, 26% of CSEEES graduates since 2015 have obtained a career in the private sector, 21% work for a government agency or contractor, 18% are in the military, 9% work for a non-profit, 9% have an unknown placement, 6% work in higher education, 6% are pursuing a further graduate degree, and 3% work in the medical field.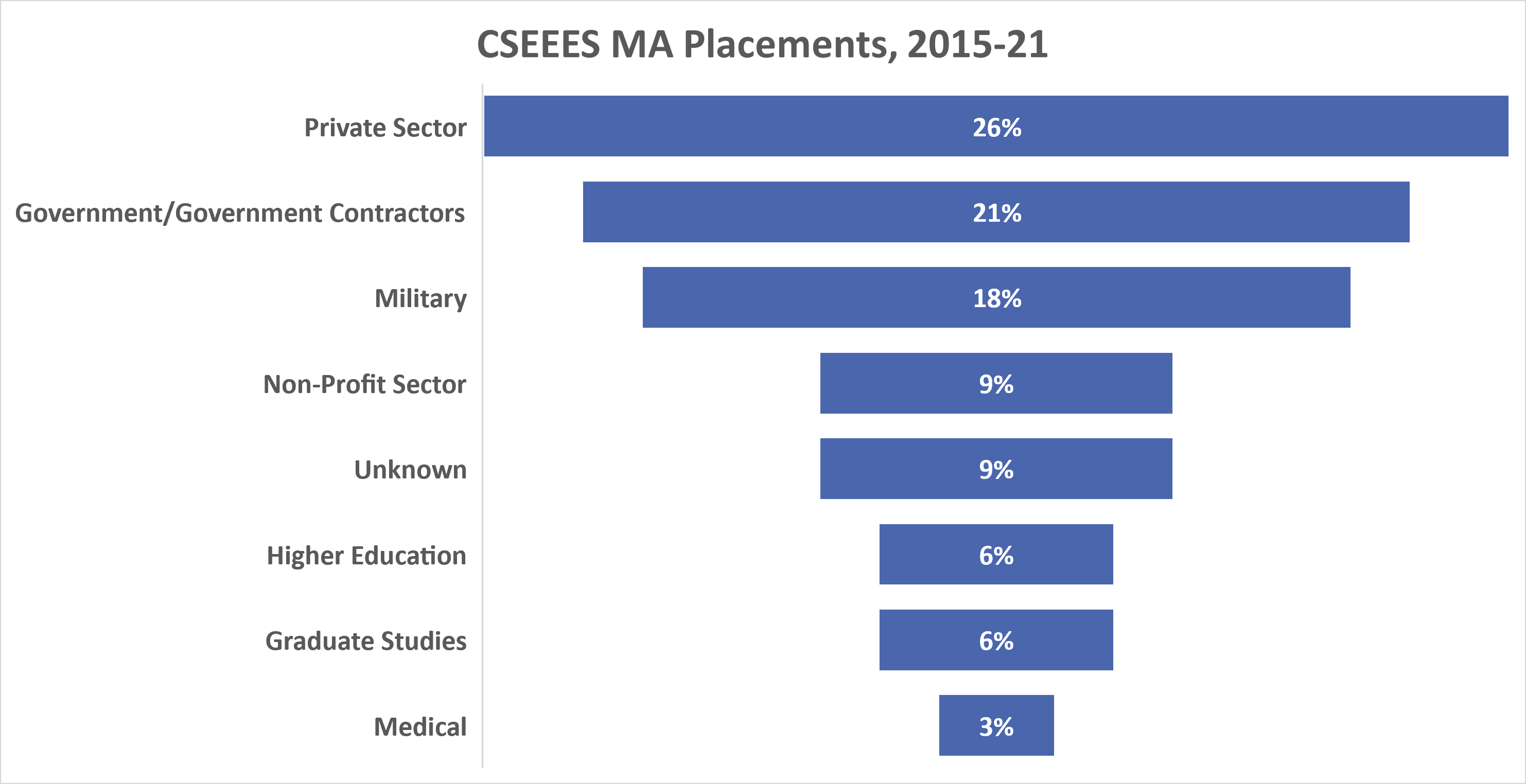 Faculty
The CSEEES program does not have its own faculty. Instead, it draws faculty from various departments and colleges who together form a network of over 80-affiliated East European and Eurasian area studies experts at The Ohio State University (OSU). To see a full list of CSEEES affiliated faculty and their specializations and regions of expertise, take a look at our directory page.
Courses
One of the strengths of the CSEEES MA program is the number and variety of Eastern European/Eurasian area studies courses offered at OSU. Each semester CSEEES publishes its own list of courses in which CSEEES MA students can enroll. CSEEES has a particular depth of offerings in history, cultural and literature studies, and international and security studies. Additionally, the CSEEES program is distinct for its offerings that relate to Central Asia and Southeastern Europe to provide students with regional knowledge beyond Russia. To provide students with additional curricular options, students may take courses beyond those included on course lists with special permission.      
Degree Details
To find out more specifics of what the degree entails and possibilities for dual degrees, we invite you to explore the MA Requirements, Dual Degree, and Admission Process pages to read more in depth about these options and how to create a strong application! The College of Arts and Sciences has also published a great brochure covering graduate studies within the college.
For more information and specific inquiries, please email Dr. Angela Brintlinger, the director of CSEEES and graduate studies chair, at brintlinger.3@osu.edu or Emma Pratt, assistant director of CSEEES, at pratt.124@osu.edu.