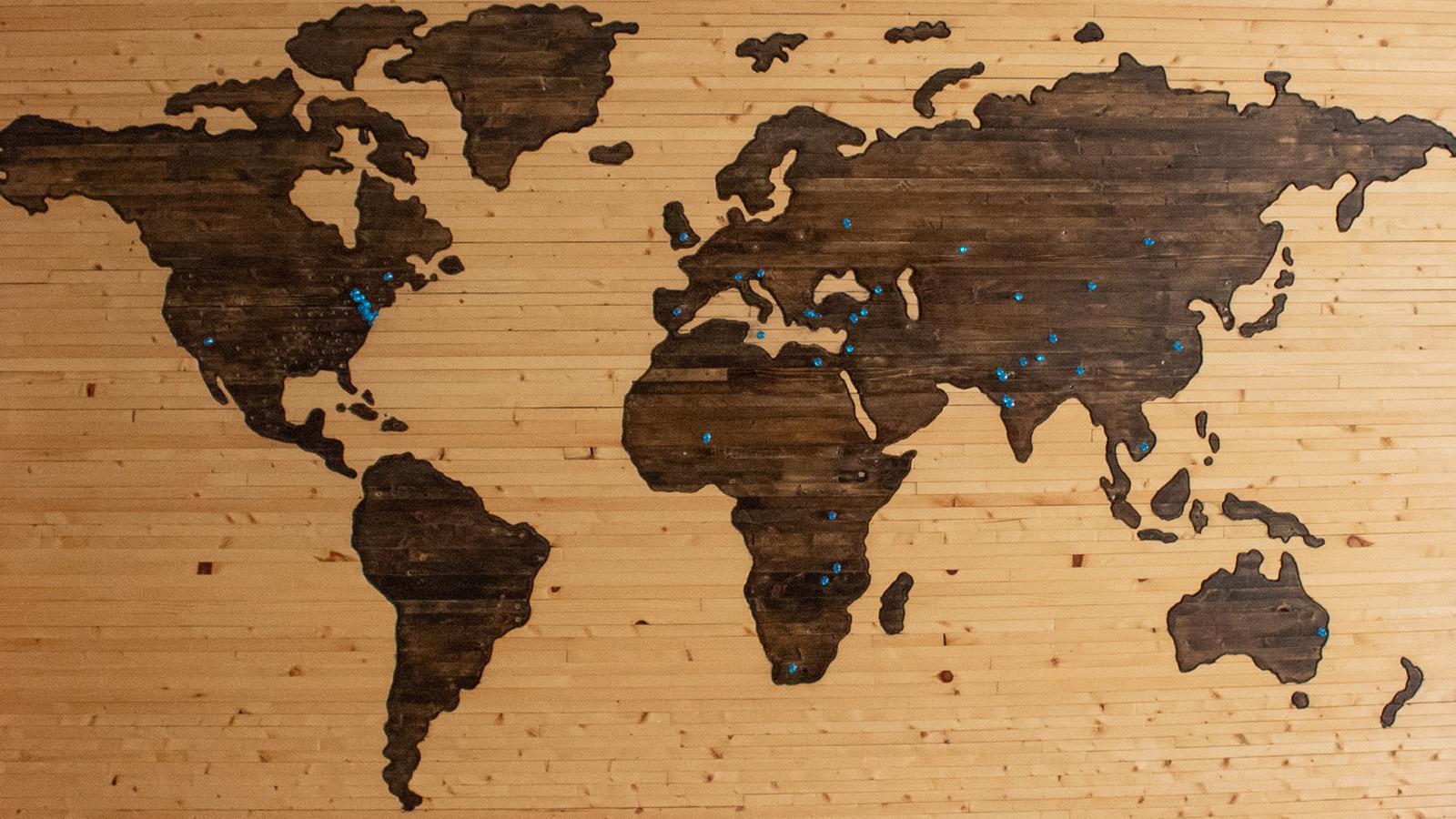 About the Global Fellowship Program
The Area Studies Centers of the Office of International Affairs (the Center for African Studies, Center for Latin American Studies, CSEEES, the East Asian Studies Center, and the Middle East Studies Center) have partnered together since 2017 to organize the annual K-14 Global Fellowship program. The program's aim is to connect teachers from across the United States in a series of discussion group sessions that focus on contemporary issues from a global perspective. The sessions are led by regional experts and will engage K-14 educators in a series of guided readings, lectures, and group discussions to increase their knowledge of the global dimension of salient issues affecting the world in order to prepare them to lead discussions about these issues back in the classroom.
Logistics
Each year, teachers are selected to participate in the K-14 Global Fellowship program. As part of the program, teachers participate in guided discussions with guest experts and fellow teachers over the course of seven months. The program consists of a cohort orientation in August or September, four or five regional specific presentations on the topic led by an expert (two or three sessions in the fall, and two or three in the spring), and a final pedagogy session in March. Sessions are three hours and take place on select Saturday mornings. For each regional session, participants are provided with background readings (typically 20-30 pages of scholarly articles and/or media publications) at least two weeks in advance to give them a basic foundation for discussion at the session. By learning about a topic over an extended time period and from a multi-regional perspective, the goal of the K-14 Global Fellowship program is to empower teachers to engage with the topic more deeply and generate more curricular connections.  
Participants will have access to a website (password protected for program participants) where the material for each session will be posted, as well as ongoing program information.
Prior Topics
2022-23: Global Youth Culture and Subcultures
2021-22: Suppression of Independent Media Outlets and Journalism
2020-21: Intersection of Coffee and Tea Around the World: History, Culture, and Global Impact
2019-20: Global Pollution: Cross-Cultural Perspectives on Environmental Issues
2018-19: Minority Issues around the World
2017-18: Global Migration
2023-24 Global Fellowship Program: Women's Rights and Issues Around the World
The application window for the 2023-24 program has closed. Please check back in spring 2024 for information on the 2024-25 program.
This year's Global Fellowship Program will focus on women's rights and issues across the globe. Participating educators will explore the histories and accomplishments of feminist activists in Africa, East Asia, Eastern Europe and Eurasia, Latin America, and the Middle East. Topic sessions will discuss historical and contemporary women's issues unique to each region and their intersectionality with other identities, and what activists are doing to create change so that educators can leave with a better understanding of such movements that are not centered in the Western world. By attending this program, participants will receive historical background and resources on this topic so that they can teach and discuss this subject with their students in their own classrooms.
This program will consist of one pre-program orientation, 4-5 regional topic lectures, and one pedagogy session. Sessions will take place on select Saturdays during the academic year from 9:00 a.m.-12:00 p.m. EST online via Zoom (with the exception of the shorter orientation session).
September 9, 2023, 10:00-12:00PM EST: Pre-program orientation and networking session
October 7, 2023, 9:00AM-12:00PM EST: Regional Topic Session on Eastern Europe with Jennifer Suchland (Ohio State U.)
November 4, 2023, 9:00AM-12:00PM EST: Regional Topic Session on East Asia with Ann Marie Davis (Ohio State U.)
January 6, 2024, 9:00AM-12:00PM EST: Regional Topic Session on Africa with activist Hajia Hamdatu Ibrahim Haruna
February 3, 2024, 9:00AM-12:00PM EST: Regional Topic Session on Latin America with Lucía Stavig (U. of Pennsylvania)
March 2, 2024, 9:00AM-12:00PM EST: Regional Topic Session on the Middle East with A. Marie Ranjbar (U. of Colorado, Boulder)
April 13, 2024, 9:00AM-12:00PM EST: Pedagogy Session with Daniel Redman (Ohio State U.)
If you have any questions about this professional development opportunity, please contact Alicia Baca (baca.31@osu.edu).
Eligibility
The 2023-24 program is FREE, virtual, and open to pre- and in-service K-12 educators, community college educators, and K-14 administrators. This year's cohort size will be limited to 30 participants.
Requirements
Participants are expected to attend all sessions and complete all readings.
Benefits
Teachers who participate in the program receive:
Curricular resources
Pedagogical support
Continuing Education Units 
Accessibility Accommodations 
If you have any questions about accessibility or wish to request accommodations, please contact contact Alicia Baca (baca.31@osu.edu). Typically, a two weeks' notice will allow us to provide access.
Education Standards
The 2023-24 Global Fellowship Program will be covering the following Ohio learning standards. This section will be updated as the regional subtopic sessions are finalized. 
Educators from ALL states, backgrounds, and disciplines are welcome in this program as multiple perspectives help us to see and learn about the world around us in different ways. This list only aims to compile learning standards in our state that will be covered throughout. 
Competency C: Social Awareness
C3: Demonstrate an awareness and respect for human dignity, including the similarities and differences of all people, groups and cultures.
K-2 Grades
C3. 1.a: Discuss how people can be the same or different.
C3. 2.a: Participate in cross-cultural activities and discuss differences, similarities and positive qualities across all cultures and groups.
C3. 3.a Discuss the concept of, and practice, treating others the way you would want to be treated.
3-5 Grades
C3. 1.b: Discuss positive and negative opinions people may have about other people or groups, even if they aren't always true.
C3. 2.b: Participate in cross-cultural activities and acknowledge that individual and group differences may complement each other.
C3. 3.b: Define and practice civility and respect virtually and in-person.
Middle Grades
C3. 1.c: Discuss how positive or negative stereotypes of an individual or group can be unconscious and may lead to discrimination and prejudice.
C3. 2.c: Participate in cross-cultural activities and demonstrate respect for individuals from different social and cultural groups.
C3. 3.c: Demonstrate respect for human dignity virtually and in-person.
High School
C3. 1.d: Examine and address explicit or implicit personal biases toward an individual or group.
C3. 2.d: Participate in cross-cultural activities, identify unique contributions and perspectives of various groups, and how the experience may change personal perspective.
C3. 3.d: Analyze how one can build community that respects all human dignity virtually and in-person.
Topic: Places and Regions
Content Statements
5. Regions can be determined, classified and compared using data related to various criteria including landform, climate, population, and cultural and economic characteristics.
Topic: Human Systems
Content Statements
6. The variety of physical environments within the Eastern Hemisphere influences human activities. Likewise, human activities modify the physical environment.
7. Political, environmental, social and economic factors cause people, products and ideas to move from place to place in the Eastern Hemisphere in the past and today.
8. Diffusion of agricultural practices and products, technology, cultural practices and major world religions (Buddhism, Christianity, Hinduism, Islam and Judaism) impacted the Eastern Hemisphere.
Topic: Historical Thinking and Skills
Content Statements
1. Multiple tier timelines can be used to show relationships among events and places.
Topic: Human Systems
Content Statements
13. Geographic factors promote or impede the movement of people, products and ideas.
14. Trade routes connecting Africa, Europe and Asia helped foster the spread of ideas, technology, goods and major world religions (Buddhism, Christianity, Hinduism, Islam and Judaism) that impacted the Eastern Hemisphere.
15. Improvements in transportation, communication and technology have facilitated cultural diffusion among peoples around the world.
Topic: Historical Thinking and Skills
Content Statements
1. Historians and archaeologists describe historical events and issues from the perspectives of people living at the time to avoid evaluating the past in terms of today's norms and values.
Topic: Feudalism and Transitions
Content Statements
5. Achievements in medicine, science, mathematics and geography by the Islamic civilization dominated most of the Mediterranean after the decline of the Roman Empire. These achievements were introduced into Western Europe as a result of the Muslim conquests, Crusades and trade, influencing the European Renaissance.
6. The decline of feudalism, the rise of nation-states and the Renaissance in Europe introduced revolutionary ideas, leading to cultural, scientific and social changes.
Topic: First Global Age
Content Statements
10. European economic and cultural influence dramatically increased through explorations, conquests and colonization.
Topic: Achievements and Crises (1900-1945)
The first half of the 20th century was one of rapid technological advances. It was a period when the tensions between industrialized nations resulted in World War I and set the stage for World War II. While World War II transformed the balance of world power, it was the most destructive and costly war in terms of human casualties and material resources expended.
Content Statements
12. Advances in technology, communication and transportation improved lives, but also had negative consequences.
13. The causes of World War I included militarism, imperialism, nationalism and alliances.
14. The consequences of World War I and the worldwide depression set the stage for the Russian Revolution, the rise of totalitarianism, aggressive Axis expansion and the policy of appeasement which in turn led to World War II.
16. World War II devastated most of Europe and Asia, led to the occupation of Eastern Europe and Japan, and began the atomic age.
Topic: The Cold War (1945-1991)
Conflicting political and economic ideologies after World War II resulted in the Cold War. The Cold War overlapped with the era of decolonization and national liberation.
Content Statements
18. Treaties and agreements at the end of World War II changed national boundaries and created multinational organizations.
19. Religious diversity, the end of colonial rule and rising nationalism have led to regional conflicts in the Middle East.
20. Postwar global politics led to the rise of nationalist movements in Africa and Southeast Asia.
21. Political and social struggles have resulted in expanded rights and freedoms for women and indigenous peoples.
Topic: Globalization (1991-Present)
The global balance of power shifted with the end of the Cold War. Wars, territorial disputes, ethnic and cultural conflicts, acts of terrorism, advances in technology, expansion of human rights, and changes in the global economy present new challenges.
Content Statements
22. The break-up of the Soviet Union ended the Cold War and created challenges for its former allies, the former Soviet republics, Europe, the United States and the non-aligned world.
24. Political and cultural groups have struggled to achieve self-governance and self-determination.
27. The rapid increase of global population, coupled with an increase in life expectancy and mass migrations have created societal and governmental challenges.
Topic: Civil and Human Rights
There are challenges to civil rights and human rights throughout the world. Politics, economics and culture can all influence perceptions of civil and human rights.
Content Statements
8. Beliefs about civil and human rights vary among social and governmental systems.
9. Nations and international organizations pursue their own interests on issues related to civil and human rights, resulting in both conflict and cooperation particularly as it relates to injustices against minority groups.
Topic: Civic Participations and Skills
Individuals and groups have the capacity to engage with others to impact global issues.
Content Statements: 
5. Individuals can identify, assess and evaluate world events, engage in deliberative civil debate and influence public processes to address global issues.
6. Effective civic participation involves identifying problems or dilemmas, proposing appropriate solutions, formulating action plans, and assessing the positive and negative results of actions taken.
7. Individuals can participate through non-governmental organizations to help address humanitarian needs.
Topic: Global Connections
The 21st century is characterized by changing circumstances as new economies emerge and new technologies change the way people interact. Issues related to health, economics, security and the environment are universal.
Content Statements: 
1. Trade, alliances, treaties and international organizations contribute to the increasing interconnectedness of nations and peoples in the 21st century.
2. Advances in communications technology have profound effects on the ability of governments, interest groups, individuals and the media to share information across national and cultural borders.
"The readings and discussion provided a new insight and better understanding into different cultures." – 2018-19 Global Fellowship program participant
---
Please contact Alicia Baca, the CSEEES outreach coordinator, at baca.31@osu.edu or call (614)292-8770 for more information.