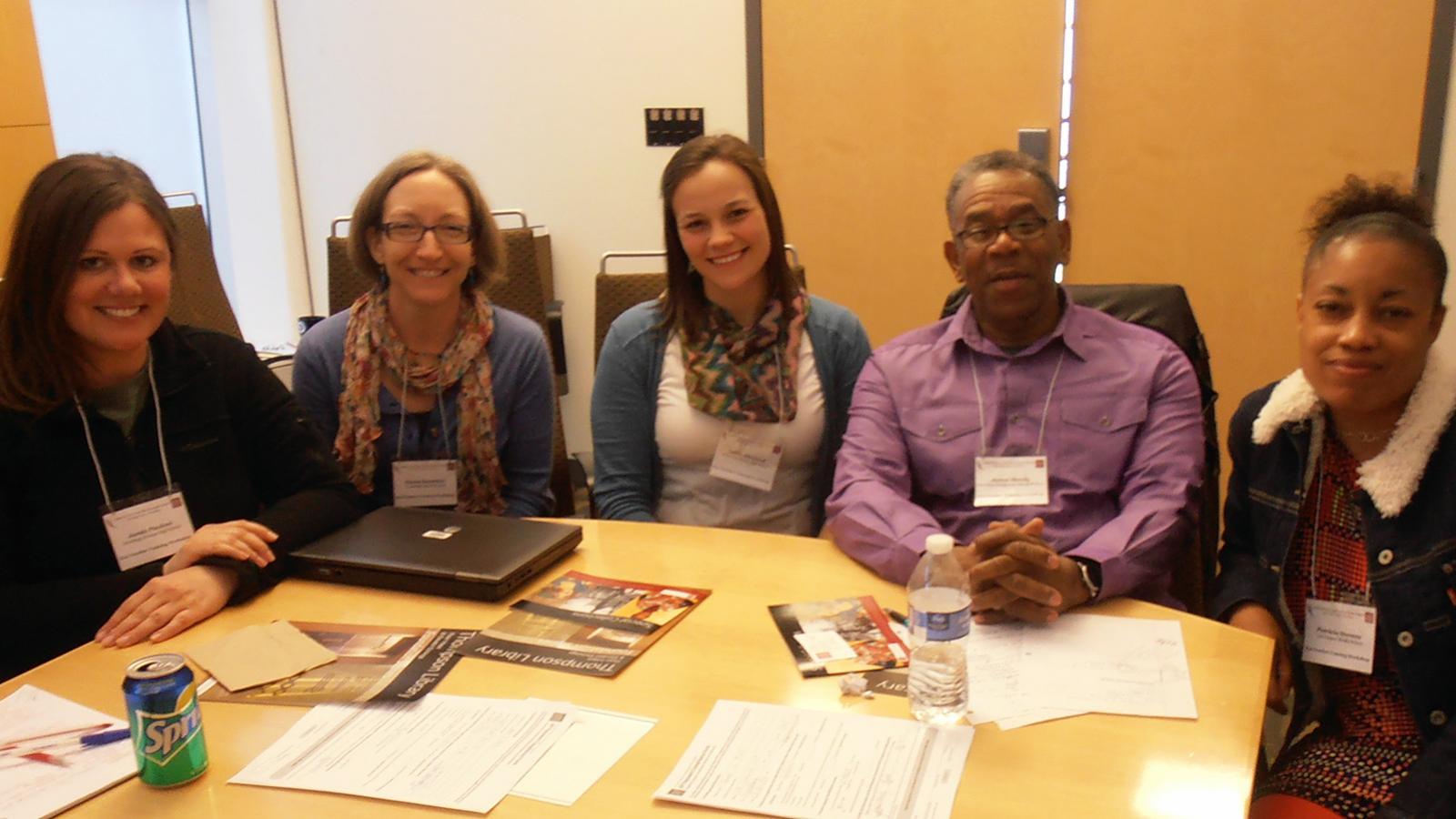 Body
Overview
Each academic year CSEEES organizes an annual teacher training workshop to provide teachers with the knowledge and resources to bring effectively Eastern European and Eurasian content into the classroom. The workshops familiarize teachers with the histories, cultures, and languages of Eastern Europe and Eurasia in order to develop the global competencies of students. This then enables students to connect historical events across countries and time periods, recognize and assess themes in literature and the arts, and analyze the events of today from a variety of perspectives. The workshops also provide teachers with classrooms resources and guidance on other sources of information.
A guest expert leads the workshop to give participating teachers a strong foundation in the topic. Attendees are provided with readings in advance, a curriculum resource to use back in the classroom, and information about other resources available in Ohio that are relevant to the topic. Workshops are small, with 10-15 participants typically, allowing for one-on-one discussion. Following the workshop, teachers are encouraged to create a unit plan or activity based upon the workshop's topic.
Benefits
Curriculum resources
Participation stipend
Contact hour certificate
Resource development stipend
CSEEES 2022 K-14 Teacher Training Workshop: LGBTQ+ Histories and Issues of Eastern Europe and Eurasia
Workshop Date and Time: Saturday, December 10, 10:00AM-1:00PM EST
Format: Hybrid (in-person on the OSU Columbus campus and Zoom, may become fully virtual upon need)

This year's workshop led by Dr. Philip Gleissner (Ohio State U.) will allow educators to learn about the history and accomplishments of the LGBTQ+ community in Eastern Europe and Eurasia. Additionally, this workshop will educate our participants on the struggles that this community faces in these regions, how LGBTQ+ issues and rights are handled there, and what LGBTQ+ activists are doing to create a safe place for the members of their community to exist in. Participants will leave this workshop with a deeper understanding about this topic so that they can lead discussions related to it with their own students. 
This training is free and open to pre- and in-service K-14 educators across the United States and will be limited to 40 participants. If you have any questions about this professional development opportunity, please contact Alicia Baca (baca.31@osu.edu).
This workshop will have an in-person attendance option on the Columbus campus of The Ohio State University. Should we not have enough attendees register for the in-person session this workshop will move to a 100% virtual format.
Participants will receive:
$50 stipend for attending the workshop
Opportunity to receive an additional $50 stipend for completing a lesson plan by May 31, 2023
Certificate for 3 contact hours 
Free curriculum resources 
If you have any questions about accessibility or wish to request accommodations, please contact us at cseees@osu.edu. Typically, a two weeks' notice will allow us to provide access.
Past Workshop Topics
Summer 2022: Understanding the Culture and History of Ukraine
Fall 2021: Corruption and Politics in Eastern Europe
Spring 2021: Feminism and Women's Rights in Central and Eastern Europe
Fall 2019: The European Union and Hungary
Spring 2019: The European Union and Poland
Spring 2018: The Rise and Fall of the Eastern Bloc Sport System
Spring 2017: When Borders are Sealed: Refugees, Smugglers, and Humanitarian Aid Along the Closed Balkan Route
Spring 2016: The Holocaust in Hungary and the Reemergence of Fascism in the 21st Century
Advanced
Pull Quote
"The workshops help me to be generally better informed and have demonstrated political trends that cross national and regional boundaries." --2017 Workshop Participant
Text
---
Please contact Alicia Baca, the CSEEES outreach coordinator, at baca.31@osu.edu or call (614)292-8770 for more information.