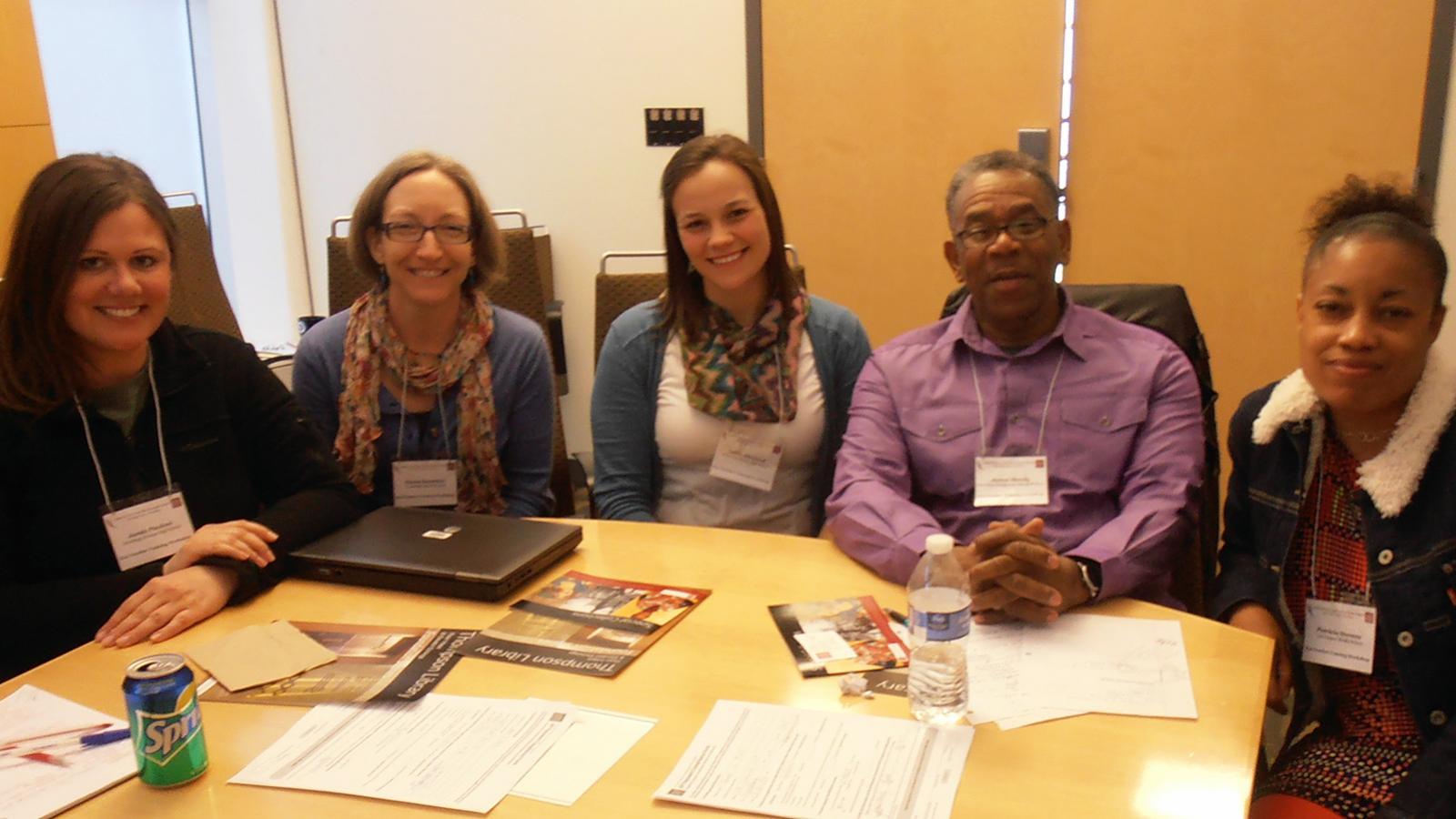 Body
Overview
The goal of CSEEES' annual teacher training workshop is to provide teachers with the knowledge and resources to bring effectively Eastern European and Eurasian content into the classroom. The workshops familiarize teachers with the histories, cultures, and languages of Eastern Europe and Eurasia in order to develop the global competencies of students. This then enables students to connect historical events across countries and time periods, recognize and assess themes in literature and the arts, and analyze the events of today from a variety of perspectives. The workshops also provide teachers with classrooms resources and guidance on other sources of information.
A guest expert leads the workshop to give participating teachers a strong foundation in the topic. Attendees are provided with readings in advance, a curriculum resource to use back in the classroom, and information about other resources available in Ohio that are relevant to the topic. Workshops are small, with 10-15 participants typically, allowing for one-on-one discussion. Following the workshop, teachers are encouraged to create a unit plan or activity based upon the workshop's topic.
Benefits
Curriculum resources
Participation stipend
Contact hour certificate
Resource development stipend
Fall 2021 Workshop
CSEEES 2021 K-12 Teacher Training Workshop: Corruption and Politics in Eastern Europe
Featuring guest expert Dr. Tatyana Nestorova (Ohio State U.)
Workshop Date and Time: Saturday, December 11, 2021, 9:00AM-12:00PM EST
Registration for this workshop has closed. Check back in spring 2022 for information on next year's workshop!
The workshop led by Dr. Tatyana Nestorova will explore the role of corruption in East European politics and society. The main focus will be on Russia and the former Yugoslavia. In addition, the transnational nature of East European corruption and criminal networks will be explained. By attending this workshop, participants will receive background and resources on this topic so that they can teach and discuss this subject with their students in their own classrooms. 
This workshop is free and open to pre- and in-service K-12 and community college educators across the United States. Registration for this workshop closes on Friday, November 5th. 
Participants will receive:
$50 stipend for attending the workshop*
Opportunity to receive $50 for completing a lesson plan by May 31, 2022 
Certificate for 3 contact hours 
Free curriculum resources 
*Parking passes will be provided to those who attend the in-person session.
WORKSHOP POLICIES
This workshop will have an in-person attendance option on the campus of The Ohio State University. We are following the protocols established by the university for events and gatherings and we will continue to monitor and adhere to any changes in policy in the future. Per Ohio State policy, social distancing at event facilities is not required. All individuals regardless of vaccination status must wear a face mask indoors during the event. Unvaccinated individuals are required to wear a mask outdoors as well when they cannot maintain social distance. We are requiring registration/ticketing for this in-person event to ensure that we do not go over space capacity and we are required to maintain attendance records for contract tracing purposes. 
For attendees who do not wish to come to campus or are unable to follow the guidelines above, we are also offering this event as a livestreamed event via Zoom.
If you have any questions about this professional development opportunity, please contact Alicia Baca (baca.31@osu.edu).

If you have any questions about accessibility or wish to request accommodations, please contact us at cseees@osu.edu. Typically, a two weeks' notice will allow us to provide access.
Past Workshop Topics
2021: Feminism and Women's Rights in Central and Eastern Europe
2019: The European Union and Hungary
2019: The European Union and Poland
2018: The Rise and Fall of the Eastern Bloc Sport System
2017: When Borders are Sealed: Refugees, Smugglers, and Humanitarian Aid Along the Closed Balkan Route
2016: The Holocaust in Hungary and the Reemergence of Fascism in the 21st Century
Advanced
Pull Quote
"The workshops help me to be generally better informed and have demonstrated political trends that cross national and regional boundaries." --2017 Workshop Participant
Text
---
Please contact Alicia Baca, the CSEEES outreach coordinator, at baca.31@osu.edu or call (614)292-8770 for more information.