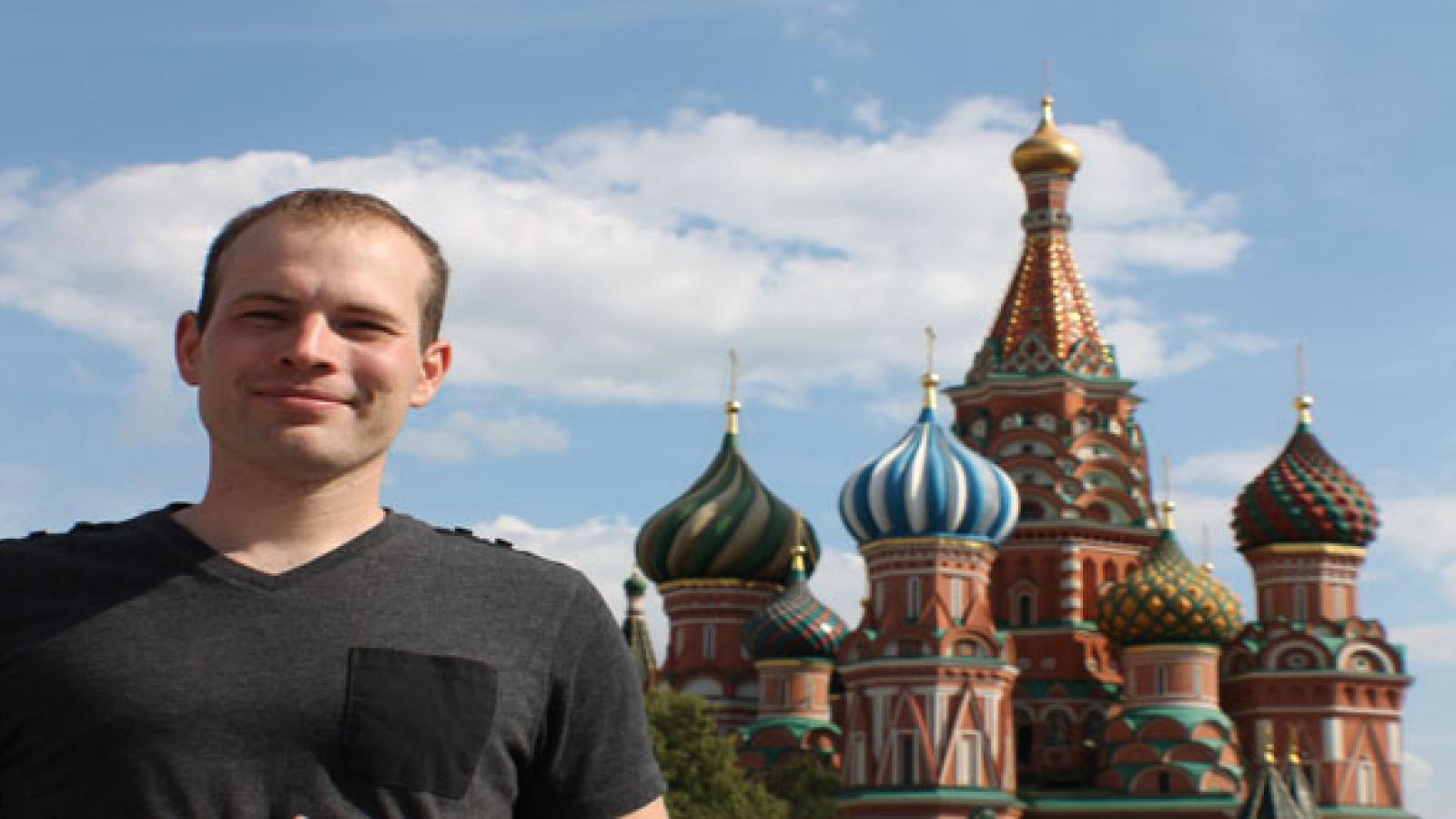 Body
"The dual degree between the Slavic Center and the Glenn College allowed me to continue my study of the Russian language and Russian politics, while also developing practical skills that are relevant to work in a variety of sectors. I strongly recommend the dual degree as it has left me with the basic skills I will need to succeed in my career, as well as a strong network of connections in a variety of sectors." — Dan Purdy, 2013 CSEES/Glenn College Dual Degree Graduate
---
Dual Degree with the John Glenn College of Public Affairs
For students interested in both public administration and Eastern European/Eurasian area studies, the Center for Slavic and East European Studies (CSEES) and the John Glenn College of Public Affairs have partnered together to offer the dual degree in Slavic and East European studies and public administration. Students who complete the program graduate with two separate master's degrees, a Master of Arts in Slavic and East European Studies and a Master of Arts in Public Policy and Management. Through the dual degree program, students are able to fulfill both degree requirements while receiving dual credit for some courses. Thus, they are able to fulfill the requirements in a shortened time frame, typically graduating in three years, as opposed to completing both degrees separately. 
Benefits of the Dual Degree
The dual degree is open to both students at the Glenn College who wish to enhance their public policy degree with the interdisciplinary study of Eastern Europe or Eurasia, and CSEES students who want to augment their area studies knowledge with policy and management skills. It is an ideal option for those who desire to work in the public or non-profit sectors. Students leave the program with a solid foundation in policy and management theory and knowledge of Eastern European/Eurasian countries, cultures, and languages. Information on the John Glenn College of Public Affairs dual degree.  
General Requirements
58 credit hours of coursework are needed to complete the dual program, broken down between:
20 credit hours of coursework specific to Slavic and East European area studies;
24 credit hours of coursework specific to public policy; and 
14 credit hours of electives (can be area studies courses or public policy)
To show completion of both degrees, students:
complete a capstone for the Glenn College; and
write a MA thesis or sit exam for CSEES
Glenn College Requirements
All students should contact staff at the Glenn College by emailing GlennApply@osu.edu to determine their course schedule and requirements. Typically, dual degree students are required to complete the Glenn College's core courses.
CSEES Requirements
Course Requirements
Slavic 6501 (3 credits)
Area of concentration (9 credits)
Russian, East European, and Eurasian Studies forum (2 credits)
Elective courses at the 6000-8000 level (6 credits)
Language Requirements
4 years of Russian or 2 years of another East European/Eurasian language. Courses taken to complete the language requirement do not count towards the CSEES credit hour or course requirements
Exit Requirement
How to Apply
Current Graduate Students
If you are already admitted and enrolled in either the Glenn College or CSEES MA program, you must apply for admission to the other program at least one semester prior to completion of your home program. Generally, students must apply to one program first (the home program), then apply to a second program for dual degree status. It is encouraged for students to apply to the second program within the first year of their graduate study. 
CSEES MA students wishing to apply as a current graduate student should read the Glenn College's dual degree admissions page.
For Glenn College students wishing to apply to the CSEES MA, after contacting Eileen Kunkler, the assistant director of CSEES, at kunkler.10@osu.edu to discuss MA options, applicants should submit the following:
A statement of purpose (two pages, double-spaced) which explains why the applicant wishes to pursue a graduate program in Slavic and East European studies, including career goals, special interests, and probable major field of study
Transcript and  3 letters of recommendation (you may request that the Glenn College send your complete application file to CSEES containing your original transcript and letters of recommendation)
GRE scores (if you submitted test scores when applying to The Ohio State University, you do not need to send the scores again)
Incoming Graduate Students
Students who have not yet been admitted to the Graduate School may apply to one graduate program first, either CSEES or the Glenn College, or apply to both programs simultaneously, submitting two separate applications and sets of application materials. Learn more about applying to the CSEES MA program or applying to the Glenn College's MPA program. Within the first year of enrollment in their home program, students should then apply to the second program following the instructions for current graduate students after first speaking with their program advisor. Admission to one program does not gurantee admission to a second.
To contact the Glenn College, email GlennApply@osu.edu.
To contact CSEES, email the assistant director, Eileen Kunkler, at kunkler.10@osu.edu. 
MPA Option
Students can also pursue a Masters of Public Administration (MPA) as a dual degree. Students pursuing this degree option will need to complete 71 credit hours: 26 credit hours specific to the MPA; 19 credit hours specific to Slavic and East European studies; and 19 electives.
Dual Degrees with Other Departments
A dual degree can be obtained by combining work for the interdisciplinary master of arts degree with work in any other graduate degree (students enrolled in professional degrees should read the information below on Combined Degrees). Many other departments offer specializations or courses on or relevant to Slavic and East European studies, or add an additional skill set or knowledge component to prepare students for diverse careers.
A student seeking a dual degree must fulfill all the requirements for both degrees, although up to 50 percent of the credit hour requirement for each degree may be used for dual credit. A minimum of 50 percent of course credit for each degree must be unique to that degree. Normally students must complete a separate master's examination for each degree program, but they may be required to complete only one joint examination or thesis. Information on how to apply for a dual degree is available through the Graduate School's website.
Combined Degrees
A combined degree in Slavic and East European studies is available to students enrolled in a professional or an undergraduate college or school. This allows students to pursue simultaneously two degrees in different colleges or schools by reducing the amount of time required to complete both sets of degree requirements. For example, students purusing a law degree can also pursue an MA in Slavic and East European studies. Information on how to apply for a combined degree is available on the Graduate School's website.