May 9, 2022
Delegation of K-12 Educators from Serbia Visits The Ohio State University
Image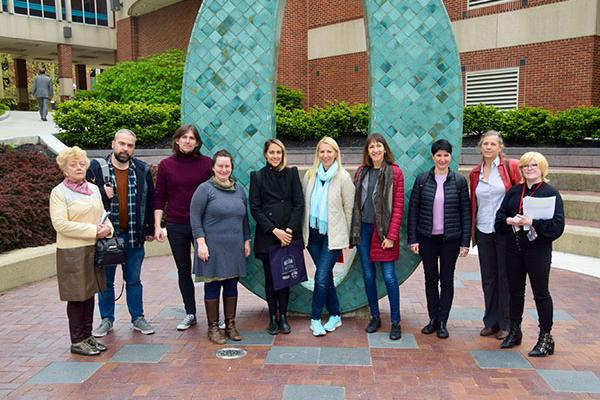 Description
On Thursday, May 5 a delegation from Serbia visited Ohio to learn more about experiential modes of learning, the integration of social justice, and experimental pedagogy across multiple platforms. The members of this delegation included five K-12 educators and a member of the Embassy of the United States of America in Serbia who are participating in the "U.S. Education in the 21st Century: Trying to Create Engaged Learners, Problem Solvers, Innovators and Good Citizens" homestay program.
As a part of their trip, the delegation visited The Ohio State University where they met with members of the Center for Slavic, East European and Eurasian Studies (CSEEES), the College of Education and Human Ecology (EHE), the Crane Center for Early Childhood Learning and Policy, and the A. Sophie Rogers School for Early Learning. During their meeting with CSEEES, center director Dr. Angela Brintlinger and outreach coordinator Alicia Baca showcased the many K-12 and community college educational resources, online learning modules, recorded presentations, and professional development programs that CSEEES offers to students and educators. They also discussed the differences between K-12 education in the U.S. and Serbia and the ways in which educators in all levels of education can help their students become engaged global citizens. 
Thanks to the work of the Columbus International Visitors Council and the Office of International Affairs at Ohio State, the delegation was able to foster long-term connections with university staff and educators that will assist them in their learning and professional development objectives back home.
---