October 4, 2023
Uncovering History and Discovering the Past: Wynne Poticher's Summer Abroad in Poland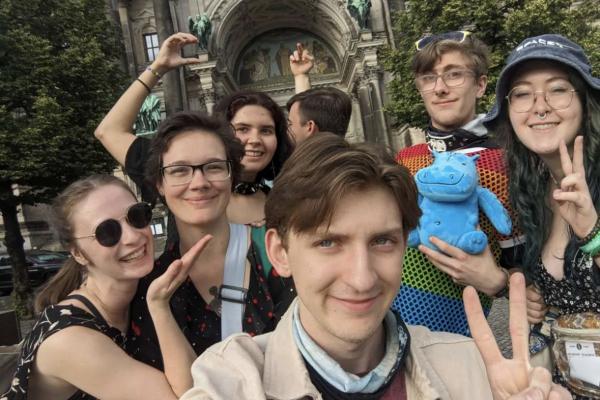 Wynne Poticher is a fifth-year double majoring in Anthropological Science and Psychology with double minors in Forensics and Neuroscience. They will graduate from Ohio State in Spring 2024 and plan to further their education in graduate school.
My friend, Madison, an Anthropology major and my housemate, was the first person to inform me about the Archaeological Field School in Poland. I knew from that day that I wanted to attend. Since beginning college, I had always wanted to study abroad, but as a low-income individual that didn't seem feasible. I remember receiving an email about the field school from the Anthropology department and I decided to apply. I met with the education abroad coordinator for the program to discuss funding options and the application process and completed my application in Autumn of 2022. I found out about my acceptance in December. I was overjoyed and excited when I found out I had been accepted. I was also overwhelmed by how expensive it was and didn't think that I would be able to save that much money. I wanted to go to Poland, but I also had to finance my final year of undergraduate studies. The idea of not being able to go was heartbreaking for me because I knew that not going to Poland would be the best move. I decided that I wasn't going to let it stop me and that I could do both.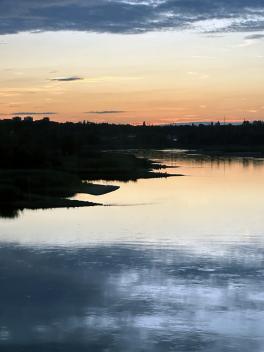 During spring semester, I worked as much as I could at both of my jobs and only spent money on necessities. The education abroad office had informed me of scholarships on their website, but they had not been released yet. I waited eagerly while searching the Scholarship Universe website for financial assistance. I applied to all the scholarships that I could, even if I wasn't sure I qualified. At this point, it was just a waiting game.
In the meantime, I started studying Polish on Duolingo and have continued to study it since then. The host institution had sent a few emails about flights and transportation and also included a list of several students who also planned to participate, one of which was another Ohio State student. I made a GroupMe so we could all talk and get to know each other before going into the field. I also reached out to the other Ohio State student to set up a time to meet up and talk. We became friends quickly and planned to travel together. Reaching out and conversing with my peers made the experience feel more real.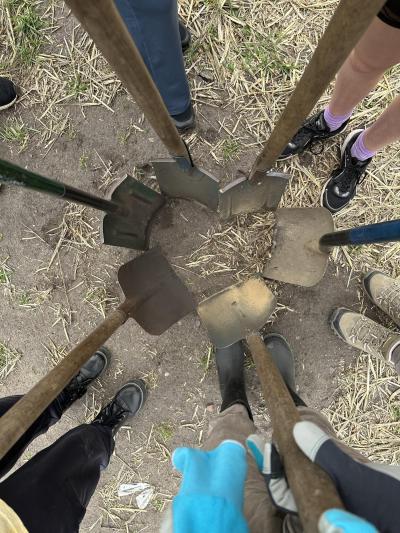 When I found out that I was awarded funds through the Polish Studies Initiative, I was so happy. I immediately put it in my savings to buy my plane ticket to Poland. I had paid to reserve my spot in the program, and in March I purchased my plane ticket. Buying it really solidified my plans; everything that needed to be done had been done. I was officially going to Poland! I finished up the semester and started working over the summer to save money to use during my travels in Europe—but I informed my employer that I'd be gone from the end of July to mid-August for my trip to Poland.
The time flew by and soon it was time for me to go abroad. I was so nervous; I had never been on a plane before and never been out of the country. I was glad to have my travel companion with me. We flew from Columbus to Detroit then onwards to Amsterdam and finally landed in Poland. The first flight was the scariest for me, but by the second one I was already sleeping on the plane. I was also really excited because I was already experiencing new things. There were a lot of firsts that happened. We stayed in a hotel and met all the other students studying at the field school. The next day we departed from Poznań to Giecz. Giecz is a small town that only had one convenience store and the nearest train station was three miles away. It was quiet but beautiful, a town you might see in a painting. My favorite parts were the fields of sunflowers and the trail that led to our site. We stayed in a school house and every morning we walked to the field site where I learned so many things about excavation. We uncovered remains from the 11th century and I learned how to uncover and clean artifacts and skeletal material. I got very good at telling if something was pottery or just a rock. I met so many people and we all had similar interests, so we got along well, and we also had bonfires every Thursday night. One memorable tradition was our Thursday night bonfires. I spent most days in the field or in the school house cleaning. I enjoyed being in the field a lot; I felt like I was truly in my element. One of the instructors was from Ohio State, too, and I had been in a class with her. I was so unsure when I changed my career goal from psychology to anthropology, but my experience in Poland only proved to me that I had made the right choice. This experience showed me what I wanted to do with my life. I want to go to graduate school and continue my education…and maybe one day I will be the instructor for the Polish field school.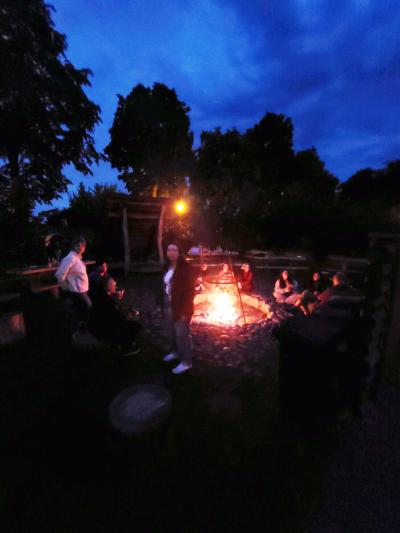 During our time in Europe, we didn't just stay in Giecz. We had the opportunity to travel to many different places in Poland. A group of us went to Berlin and saw the Berlin Wall and the Pergamon Museum. It was truly amazing, and the food was so good. We had perogies made fresh and cooked to order. I didn't know there were so many varieties, and my favorite had a cherry filling. There was a restaurant that served all different kinds of crepes. It was interesting the variety that Poland had—there was even a crepe pasta, which was divine. I was glad I had studied some Polish before going. I didn't know a lot, but I knew enough to understand some things. I even taught some of my classmates how to say things in Polish. While I was sad to leave, I did find myself missing home. I returned in August to start my fifth and final year of undergraduate studies. I am still in contact with my classmates from Poland and we are planning a meet up next summer. My travel companion is also in one of my classes, so I get to see her three times a week. It felt strange at first being surrounded by people like me. I had always thought of myself as odd, but I just hadn't found the right people until going to Poland.
I am very thankful for this opportunity and the Polish Studies Initiative. Without the scholarship, I might have missed out on one of the best experiences I have ever had.
---