February 6, 2023
CSEEES and OSU Lima Host Opening Reception for Sasha Maslov's Scorched Earth, Broken Lives Exhibit
Image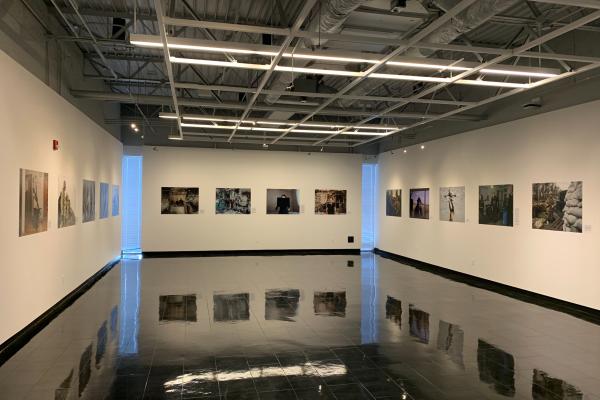 Description
On Thursday, January 26, CSEEES and The Ohio State University at Lima celebrated the opening of Sasha Maslov's Scorched Earth, Broken Lives at the Farmer Family Gallery. CSEEES has previously worked with Maslov to exhibit his Ukrainian Railway Ladies series, but the new exhibition features Maslov's most recent work: photographs taken since Russia launched its full-scale invasion into Ukraine last February.
Despite the cold and snowy weather, the Ohio State Lima and CSEEES community gathered to view and discuss the photographs. Ian Breidenbach (Assistant Professor of Art, OSU Lima) curated the exhibition, choosing to mount the photographs directly on the walls giving viewers the feeling that they are glimpsing through a window to Ukraine. He mentioned that this was one of the more important shows he has ever done because it combined beautiful artwork with current events. He also underlined the role of photography, explaining that the narrative created by Maslov and other photographers in Ukraine is how we in America understand the conflict. Dean and Director of Ohio State Lima Tim Rehner agreed that the exhibit couldn't have been more timely, and that it is the sort of exhibit that should be on display at Ohio State.

CSEEES Director Angela Brintlinger remarked that the power of the photographs comes from Maslov's obvious love for his country and the people who are standing up for it. Maria Ignatieva (Professor of Theatre, OSU Lima) likewise found hope amidst the sadness in Maslov's photographs. She and her students are preparing a reading of Ukrainian poetry in the gallery to interact with the images.
The photographs will be on display in the Farmer Family Gallery until February 26, 2023. The gallery will be open for regular viewing hours from 11:00AM-4:00PM Monday-Thursday with further visitation by appointment. Contact Ian Breidenbach (breidenbach.44@osu.edu) for more information.
---