September 8, 2022
CSEEES and OSU Mansfield Host Opening Reception for Sasha Maslov's Ukrainian Railroad Ladies Exhibit
Image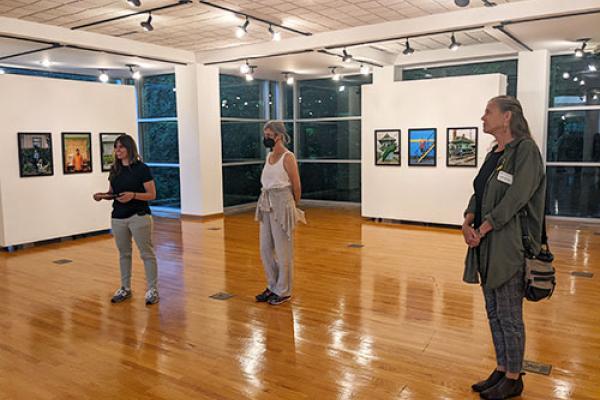 Description
On Tuesday, September 6, Mary Cavender (Associate Professor of History, OSU Mansfield) gave a talk at the opening reception for the new exhibition of Sasha Maslov's Ukrainian Railroad Ladies photography series at The Pearl Conard Art Gallery at OSU Mansfield. Cavender spoke to an audience of students, faculty, and members of the public about the photographs and their connection to greater themes in art and the history of the region.  
The photographs in the series depict portraits of women who work for Ukrainian railways as traffic controllers and safety officers. They are usually photographed in their uniforms and appear in their workplaces. Cavender contextualized the subjects as descended from Soviet policies towards both women's labor and the promotion of domesticity, since many of the pictures, though taken in the subjects' workspaces, feature domestic touches such as lace curtains, houseplants, or handicrafts. She believes that through this context, Maslov is asking the question "What is home?". This question is relevant not just to the individuals in the portraits and to other workers in the modern economy who may spend as much time at work as at home, but to the country of Ukraine. This question is especially timely given the war and the Russian contention that Ukraine's home is with Russia, which has been rejected by most Ukrainians.  
Cavender also drew attention to the peek Maslov gives the viewers into the vivid private spaces of women in a region that is often stereotyped in the US as gray, joyless, and mechanical, drawing attention to details like the subjects' manicures and colorful decor. She sees Maslov's photographs as both nostalgic for and a rejection of Ukraine's Soviet past, and pointed out that the flexibility of interpretation which Maslov allows for his photographs is part of what makes great art.  
She further noted how Maslov's portraits of the railroad ladies fit into the greater European tradition of portraiture, where subjects "wear their jobs". Attendees then asked questions of Cavender, CSEEES Director Angela Brintlinger, and Kate Shannon (Associate Professor of Art, OSU Mansfield) before exploring the gallery and examining the portraits for themselves.   
---