June 24, 2021
June 2021 CSEEES Alumni Profile
Image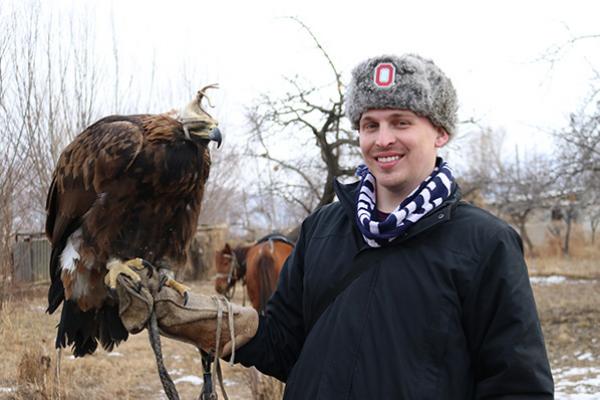 Description
Will Bezbatchenko, MA in Slavic and East European Studies and Master of Public Administration, Class of 2016
Where do you work and what is your current position? 
I work for the City of Cuyahoga Falls as the Law Office Manager where I help the office run smoothly and the Law Director prepare legislation for City Council.
Tell us how you got there. 
Upon graduation, I completed an English Teaching Assistant Fulbright Fellowship in the Kyrgyz Republic. While I enjoyed the experience, I was fatigued with moving constantly (I had over 20 addresses in the 10 years between high school graduation and the end of the fellowship) and realized how much I missed being near friends and family. So instead of pursuing opportunities abroad or in Washington D.C., I decided to move back to the Akron, Ohio area and apply the Public Administration MA I completed with my CSEES MA. However, I have found ways to remain active in international issues at the local level.
How has your CSEES MA helped you throughout your post-graduate life? 
The multi-disciplinary nature of the CSEES degree has given me the perspective to tackle a variety of challenges and the cross-cultural communication skills to understand our City's immigrant and refugee communities. Cuyahoga Falls is adjacent to Akron's North Hill, an area that has for decades been a landing spot for new immigrants from all over the world, and Cuyahoga Falls is diversifying more than ever. Currently, most refugees are from Nepal and Central Africa, but I occasionally meet Uzbek residents or see signs in the language.
In 2019, I also joined the board of Global Ties Akron, an organization that hosts U.S. State Department and Congressional exchanges. I've met groups from North Macedonia, Ukraine, and several North African countries learning about different industries in the U.S. I also chaired the organization's annual fundraiser in 2020, which, despite being remote, was a huge success. Recently, I stepped down from the board due to my schedule becoming untenable but I plan to stay involved in Global Ties as a volunteer.
What was your focus or research interest when you studied at OSU? 
I studied Central Asian politics, particularly relations between Uzbekistan, the Kyrgyz Republic, and Tajikistan. I was a Foreign Language Area Studies Fellowship recipient and studied Uzbek for three years.
If you are a traveler, what is one of your favorite trips you have taken? 
In January 2017, a few friends and I went to Bokonbayevo, Kyrgyz Republic, a small city on the south shore of Lake Issyk Kul. We had planned a day of horseback riding through the mountains with a local falconer to hunt. While we didn't catch anything, we took some of the best pictures I have taken in all of my travels.
What are your future plans? 
I plan to remain in the Akron area and build a career in government. I had started an internationally-focused project that had to be put on pause due to the pandemic, but I hope to restart the process in the coming months. I want to continue to use my international experience.
What inspires you? 
I enjoy serving the community, advancing projects between multiple stakeholders, and finding common ground. Local government is all about service, so it's gratifying to see a real impact on a daily basis.
---