PSI Spring Event: All These Sleepless Nights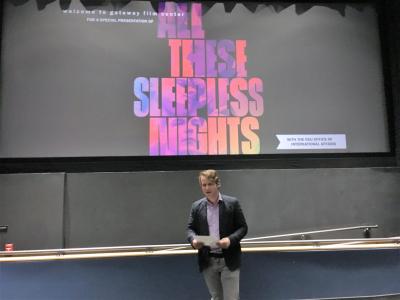 The Polish Studies Initiative screened Michal Marczak's 2016 film All These Sleepless Nights on Thursday, April 12 at the Gateway Film Center. The film, which was shot in Warsaw over the course of two summers, follows the lives of two Polish twenty-somethings as they spend their nights frequenting house parties, clubs and beach raves until the sun comes up. The film is something in between a documentary and a drama, using amateur actors to play the roles but there is no clarity on how much of the film, if any, is scripted and what is organically experienced by the main characters, Krzysztof and Michal. There was no clear plot line, but through the hazy filming of nights blurring into dawns viewers can infer that Kris may be maturing as he seems to grow bored with his party lifestyle. Following the screening, Dr. Daniel Pratt answered the audience's questions about the director's artistic vision, the characters and cinematography.   
PSI Awards Scholarships for Summer Study Abroad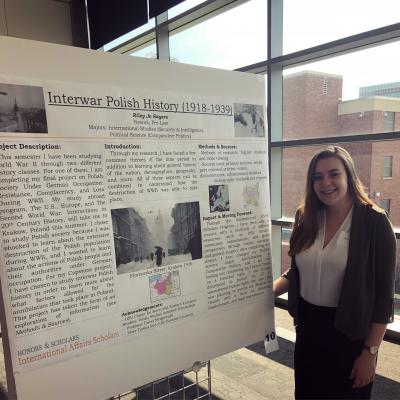 After a competitive round of applications, PSI is excited to be offering four undergraduate students scholarships to study abroad in Poland during summer 2018. While in Poland they will enhance their knowledge of Polish culture, history and society. The students come from diverse interdisciplinary backgrounds.
Amanda Heath, a third-year student studying speech and hearing science, received a scholarship for her participation in the Global May Hungary program, which will take her to Warsaw as well as Budapest.
Sarah Holbert, a third year student majoring in political science, received a PSI scholarship for her participation in the Research Central and Eastern Europe in Comparative Perspective – Social Sciences in Warsaw program, where she aims to research how the transition from socialism to a free market economic system affected Polish society.  
Austin Karr, a second year student studying aerospace engineering, received a PSI scholarship for his internship at the Institute of Aviation in Warsaw, where he will spend twelve weeks doing research with Polish aerospace engineers. 
Riley Sayers, a second year student majoring in international studies and political science, received a PSI scholarship to go toward her participation in the study abroad program The United States, Europe, and the Second World War: Interactions in 20th Century History, which will take her to Krakow, Poland. She is also completing a project on the Polish society under German occupation.
---