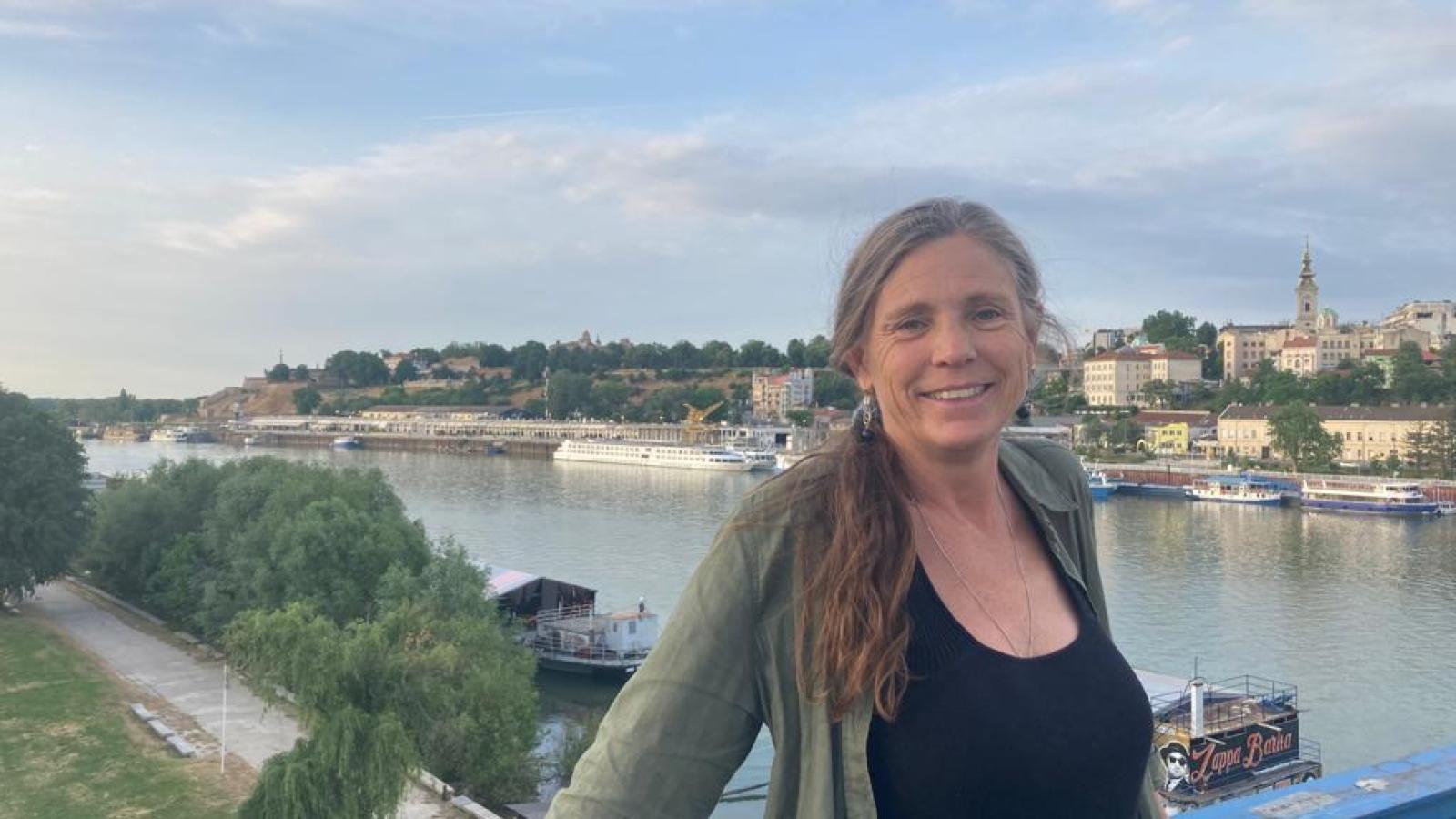 Dear students, colleagues and friends, 
I write as we pass the six-month mark of Russia's war on Ukraine. August 24 was Ukrainian Independence Day, which makes it all the sadder to see the statistics in the newspaper and other media outlets about military personnel and civilians killed and wounded on both sides, Ukrainian cities bombed, bridges and other infrastructure destroyed. For Slavs all over the world as well as for the field of Slavic, East European and Eurasian studies, these are difficult times.
At Ohio State we have taken the opportunity to highlight Ukraine and educate students, staff and the public about Ukrainian agriculture, architecture, economics, film, history, literature, politics. In our Ukraine Wednesdays series over the course of spring semester we featured specialists from Ohio State as well as colleagues from across the world. In summer CSEEES organized a K-14 workshop on Ukrainian culture and history, and we also are helping to support and publicize the Ukraine series of articles and narrated videos at Origins, the e-journal devoted to current events in their historical perspective.
This fall we will relaunch our Ukraine Wednesdays series and welcome new expert guests to help our community understand the country that has been front-page news this year. Stay tuned for specifics. Undergraduates can now take Ukrainian Culture for the first time in many years, taught by CSEEES affiliate Dr. Alisa Lin in the Department of Slavic and East European Languages and Cultures. In further outreach we will share photographer Sasha Maslov's fantastic exhibition "Ukrainian Railroad Ladies," originally mounted at the Ukrainian Museum-Archives in Cleveland, with students and the community at Ohio State's Pearl Conard Art Gallery in Mansfield, Ohio from Tuesday September 6th  – Wednesday, October 12th, 2022. If you are in the area, please consider visiting this amazing exhibit.
The Center has hired a new assistant director: Emma Pratt, a 2011 M.A. graduate of our program, has returned from Tbilisi, Georgia. We hope you will have a chance to meet Emma as she is an important addition to our team. New affiliates hired at the university include Dr. Sunnie Rucker-Chang who specializes in the former Yugoslavia. We are eager to incorporate her into our Serbian Educational Alliance project that continues apace.
Most importantly, this year the Center for Slavic, East European and Eurasian Studies has again been selected for Title VI Funding by the Department of Education. We are thrilled that we can again offer fellowships for graduate and undergraduate students to pursue their studies of our region's languages and area studies, and that we are able to offer programming and support for scholarly efforts, community outreach, online learning modules, lectures and student mentoring at minority-serving institutions, and K-14 teacher training opportunities and resources. The $2.1 million from these grants will help fund our Center and students through 2026.
Last but not least, in 2022 CSEEES saw the graduations of M.A. students Maryam Bainazar, Rachel Hutchison, Philip Kopatz, Kelila Thomsen and Will Zadeskey along with Budimka Uskokovic who received her PhD in Germanic as well as her SEEES Graduate Interdisciplinary Specialization certificate. The center's M.A. students all successfully defended theses with topics ranging from the representation of Muslim women in contemporary Russian fiction to the first Soviet participation in the Olympics to Ukrainian literary politics in the 1930s to Moldovan-Transnistrian relations to archeological remains from medieval Poland. The full gamut of interdisciplinary scholarship across the region! This year we welcome two new students to our M.A. cohort, Will Berlage and Alex Yavornitzky, and we look forward to a productive autumn semester with them and our other returning M.A. and M.A./M.P.A. students.
If you haven't already, please subscribe to our weekly newsletter and keep an eye on our website, YouTube channel, Twitter and Facebook pages as we share our successes and for information on outreach events, virtual and on-campus lectures, and other news about Slavic, East European and Eurasian Studies. 
With all best wishes,
Angela Brintlinger