Image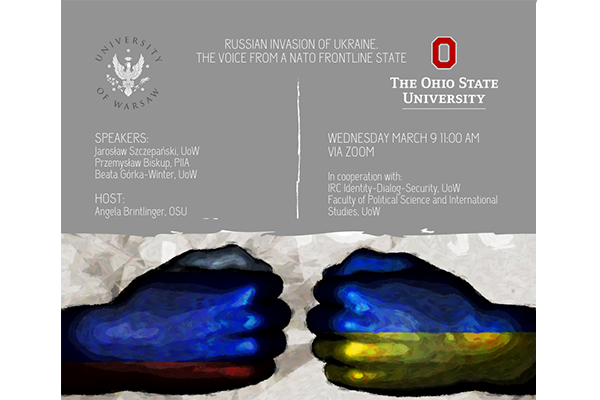 March 9, 2022
11:00AM - 12:00PM
Date Range
Add to Calendar
2022-03-09 12:00:00
2022-03-09 13:00:00
The Russian Invasion of Ukraine: The Voice from a NATO Frontline State
Join the Center for Slavic, East European and Eurasian Studies and the University of Warsaw for a joint roundtable featuring experts from Poland to share their insights and perspectives about the war in Ukraine. Poland, a country which in 1989 held its first free and partially democratic elections since World War II,  joined NATO in 1999, and the EU in 2004, has strong historical and geographical ties to Ukraine. Poland and Ukraine share a 332 mile (535 kilometer) border, and approximately 2 million Ukrainians were estimated to be living and working in Poland prior to the start of the war. Now, Poland has become the primary refuge for those fleeing the conflict.  During the round table, speakers will discuss the war from security studies and international relations perspectives, as well as giving a firsthand account from the Polish-Ukrainian border. They will share how scholars from the region and near to the front lines understand the reasons behind the war. Speakers: Dr. Beata Górka-Winter, University of Warsaw          Dr. Przemysław Biskup, Polish Institute of International Affairs       Dr. Jarosław Szczepański, University of Warsaw 
Online
OSU ASC Drupal 8
ascwebservices@osu.edu
America/New_York
public
Date Range
Add to Calendar
2022-03-09 11:00:00
2022-03-09 12:00:00
The Russian Invasion of Ukraine: The Voice from a NATO Frontline State
Join the Center for Slavic, East European and Eurasian Studies and the University of Warsaw for a joint roundtable featuring experts from Poland to share their insights and perspectives about the war in Ukraine. Poland, a country which in 1989 held its first free and partially democratic elections since World War II,  joined NATO in 1999, and the EU in 2004, has strong historical and geographical ties to Ukraine. Poland and Ukraine share a 332 mile (535 kilometer) border, and approximately 2 million Ukrainians were estimated to be living and working in Poland prior to the start of the war. Now, Poland has become the primary refuge for those fleeing the conflict.  During the round table, speakers will discuss the war from security studies and international relations perspectives, as well as giving a firsthand account from the Polish-Ukrainian border. They will share how scholars from the region and near to the front lines understand the reasons behind the war. Speakers: Dr. Beata Górka-Winter, University of Warsaw          Dr. Przemysław Biskup, Polish Institute of International Affairs       Dr. Jarosław Szczepański, University of Warsaw 
Online
Center for Slavic and East European Studies
cseees@osu.edu
America/New_York
public
Description
Join the Center for Slavic, East European and Eurasian Studies and the University of Warsaw for a joint roundtable featuring experts from Poland to share their insights and perspectives about the war in Ukraine. Poland, a country which in 1989 held its first free and partially democratic elections since World War II,  joined NATO in 1999, and the EU in 2004, has strong historical and geographical ties to Ukraine. Poland and Ukraine share a 332 mile (535 kilometer) border, and approximately 2 million Ukrainians were estimated to be living and working in Poland prior to the start of the war. Now, Poland has become the primary refuge for those fleeing the conflict. 
During the round table, speakers will discuss the war from security studies and international relations perspectives, as well as giving a firsthand account from the Polish-Ukrainian border. They will share how scholars from the region and near to the front lines understand the reasons behind the war.
Speakers:
Dr. Beata Górka-Winter, University of Warsaw 
Dr. Przemysław Biskup, Polish Institute of International Affairs
Dr. Jarosław Szczepański, University of Warsaw 
Advanced
Text
If you have any questions about accessibility or wish to request accommodations, please contact us at cseees@osu.edu. Typically, a two weeks' notice will allow us to provide access.
Media
---