September 8, 2023
CLAS and CSEEES Kick Off "Latin America and the World" Film Festival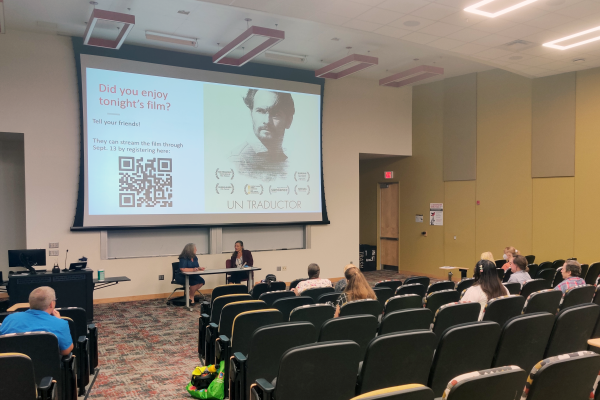 The "Latin America and the World" Film Festival commenced this Wednesday (September 6, 2023) with a showing of Un traductor (2018, Cuba/Canada), co-sponsored by the Center for Latin American Studies (CLAS) and the Center for Slavic, East European and Eurasian Studies (CSEEES). The audience enjoyed the moving story of Russian literature professor Malin who is ordered to become the translator for young victims of Chernobyl receiving medical treatment in Havana. Professors Angela Brintlinger (Director of CSEEES, Slavic and East European Languages and Cultures) and Clarissa Surek-Clark (English and Sociology) led a lively post-film discussion that touched on issues of family, translation, duty and economic decline.
If you were unfortunately unable to attend the screening, the film will remain available online until September 13. Please register to receive viewing instructions here.
The film festival will continue in the following weeks with screenings of The Future Perfect, Perro Bomba, Los Lobos, The Territories and This Stolen Country of Mine in Hagerty Hall 180 (see links for screening dates). Each film connects Latin America with one or more other world regions and emphasizes the global, interconnected nature of conflicts, cultures, and experiences. The films take place in a variety of settings, address a wide range of themes, show the perspectives of diverse communities, and feature multiple languages (though all films have English subtitles). The film festival is made possible with the support of Pragda, SPAIN arts & culture, and the Secretary of State for Culture of Spain.
---