August 1, 2022
CSEEES Hosts Teacher Training Workshop on the Culture and History of Ukraine
Image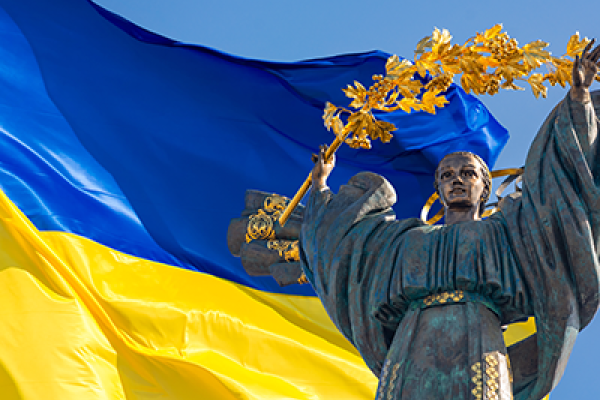 Description
By: Blake Marbaugh, Area Studies Student Intern, Summer 2022
On July 26 and 27, 2022, the Center for Slavic, East European and Eurasian Studies (CSEEES) hosted a two-day workshop that introduced 30 K-12 and community college educators from 12 states to the culture and history of Ukraine. The participants heard presentations from Dr. Nicholas Breyfogle (Department of History) and Dr. Alisa Ballard Lin (Department of Slavic and East European Languages and Cultures) who presented on Ukrainian history and culture, respectively. The participating educators were also given the opportunity to talk about the presentations in small groups and received contact hours, stipends, and six books on Ukrainian culture and history for completing the workshop.
Dr. Nicholas Breyfogle's July 26 presentation focused on Ukrainian history within the context of the ongoing war. As a historian, Dr. Breyfogle felt that it was essential to set the record straight, especially in the face of a concerted disinformation campaign from the Russian government to rewrite history. He emphasized that the history of Ukraine is that of a separate country from Russia, not just politically but culturally as well.
Dr. Breyfogle's lecture provided the participating teachers with a crash course covering the 1,000 year-history of Ukraine starting with medieval Kievan-Rus and ending with the February 2022 invasion. Common themes were identified to give context to the current conflict. He explained the origins of the East-West divide in Ukrainian society, starting with how the many partitions and occupations created two distinct versions of Ukraine. He then discussed how this reality has shaped internal conflicts that Russia has exploited to justify its invasion.
Russia's history with Ukraine was fleshed out as one of imperialistic ambitions and domination. Dr. Breyfogle highlighted critical moments in both countries' histories as the Russian Empire and the Soviet Union conquered and tried to integrate Ukraine into their domains. He translated this history into an explanation as to why Russia's theft of grain shipments and destruction of silos struck such a nerve with Ukrainians as it brought back the national memory of the Holodomor (Ukrainian for "death by hunger") that killed millions in the 1930s. This further historical context will help both educators and students gain a more in-depth understanding of a conflict that Dr. Breyfogle believes will have repercussions that will last for decades, if not centuries.
Dr. Alisa Ballard Lin's lecture on July 27 explored Ukraine's unique culture, focusing on recurring themes and Russian Imperial and Soviet policies towards it. She explained Ukraine's national narratives and the difficulties of establishing them as a multicultural state that has only existed as an independent nation for around 30 years. She discussed how Cossacks came to be the symbol of Ukrainian national identity as they were the first people to rule Ukraine and how they embody the ideas of national sovereignty and individualism. Famous Cossacks and nationalists not only influenced Ukrainian history but also impacted the arts, such as the many ballads about Ivan Mazepa. Dr. Lin introduced the participants to famous literary figures that Ukraine has produced over the years, many of whom are claimed by Tsarist Russia but were born in Ukraine. She explained that those who identified with their true mother country risked being banned or censured for including nationalistic themes in their texts.
Common themes in Ukrainian society were also born out of local folklore, emphasizing community over the individual. Many urbanites still participate in rural festivals such as Ivana Kupala. Another major takeaway from Dr. Lin's presentation was the idea of identity and diversity in a multicultural Ukraine. Due to the many repatriations and migrations that occurred throughout its past, Ukraine hosts a population of mixed ethnic identities and religious beliefs. Dr. Lin drew specific attention to the ethnic group the Crimean Tatars, who have only recently returned to their homeland after a pogrom instituted during Stalin's reign.
Attention was also brought to how the Soviets allowed the Ukrainians to practice their own culture and broadcast their uniqueness through film. However, such policies were pursued more to ensure that Ukraine did not feel the need to leave the Soviet Union rather than out of reverence for the region. This showed that all films made in Ukraine only featured the Russian language and that many Ukrainians still had to assimilate to the Russian language and culture in order to succeed in their academic and business ventures.
Dr. Lin's presentation closed out with a look into how the 2014 invasion of Crimea and the ensuing war in the Donbas has shaped contemporary Ukrainian art. A particular emphasis was placed on how Ukraine existed in this grey zone between war and peace before the escalation in 2022. Dr. Lin's lecture served as an excellent summary of Ukrainian culture that is very much needed in this time of Russian disinformation that calls into question the existence of the nation's distinct cultural identity from Russia.
If you would like to learn more about Ukrainian culture, history, politics, and current events, please visit our resources page which is updated regularly.
---