May 22, 2023
CSEEES Outreach Coordinator Alicia Baca Wins 2023 Mary Ann Williams Leadership Award
Image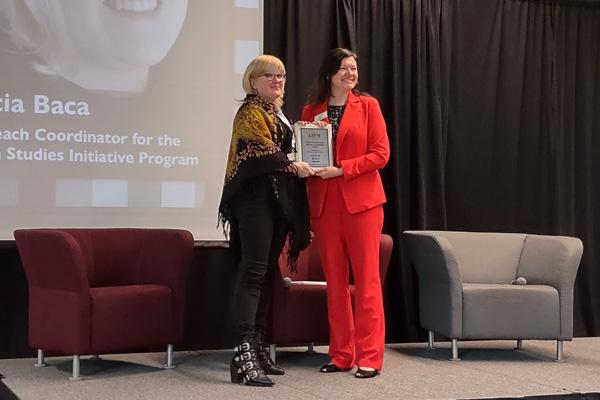 Description
Alicia Baca, the Outreach Coordinator of the Center for Slavic, East European and Eurasian Studies (CSEEES) has been awarded the 2023 Association of Staff and Faculty Women's Mary Ann Williams Leadership Award. This award recognizes a university employee who exhibits a special kind of leadership in the spirit of the award's namesake. Mary Ann Williams was the President of ASFW from 1990 – 1991. She instilled in others a sense of confidence to succeed, promoted a greater understanding of others, bridged differences and encouraged co-workers and friends to collaborate and cooperate. The recipient of this award will be comparable in their actions to Mary Ann Williams.
The committee was particularly moved by Baca's strength in providing opportunities for others to grow through mentoring, advocacy, and support. Her nomination explained that she was invited by the Association for Slavic, East European and Eurasian Studies, the premier organization in the field, to speak on a career panel. This demonstrates how respected Baca is as a role model and mentor. She is also a strong advocate for diversity in the field, using her position to ensure more voices are heard by using speakers who represent the communities impacted (the vast majority of speakers in the autumn 2022 Ukraine Wednesdays series were Ukrainian or Ukrainian-American, the professor who served as the guest speaker for the LGBTQ+ issues teacher training workshop identifies as a member of the community). She gives an audience to lesser-known speakers who may not have as many speaking engagements, and makes sure all students are able to access our programming—including volunteering to personally to pay the way of a student who could not otherwise afford to compete in the statewide Russian language competition (another source was found). She designed and implemented a plan to allow for other attendees and community members to sponsor students' attendance at the Midwest Slavic Conference, and all requests for waivers were met. This allowed a much larger number of students to access the professional development and networking opportunities at the conference.
Congratulations, Alicia!
---