July 21, 2021
CSEEES Summer 2021 FLAS Fellows
Image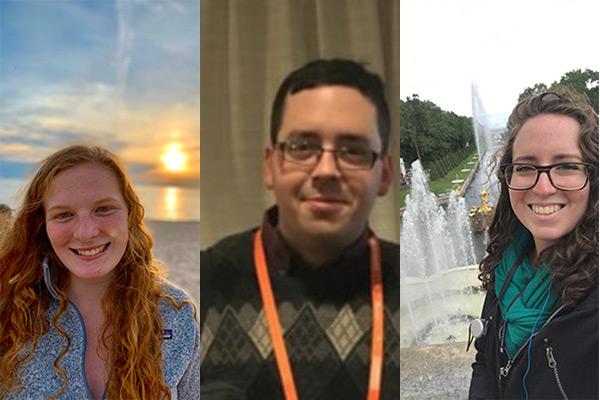 Description
The Center for Slavic, East European, and Eurasian Studies congratulates its three Foreign Language and Area Studies (FLAS) Fellowship recipients for summer 2021.
Claire Olechiw is a rising junior undergraduate student with double majors in international studies and Russian. In the future, Claire aspires to work as an analyst for an intelligence agency. To that end, she is focused on advancing her Russian language skills to higher levels as she completes her bachelor degree. Claire is studying third-year Russian also via an American Councils virtual program.
Nicholas Seay is a PhD student from the Department of History whose research focuses on cotton production in Tajikistan from the perspective of Tajik growers and what this can reveal about the success or failure of Soviet policy in Central Asia. Nicholas is studying fourth-year Uzbek through a virtual program administered by American Councils.
Kelila Thomsen is pursuing an MA in Slavic and East European Studies. As part of her MA program, Kelila is studying both the Polish and Russian languages. Kelila's specialization is in cultural anthropology with an interest in cultural practices in Siberia, Russia and how they have changed in the 19th and 20th centuries. Kelila is studying fifth-year Russian through a virtual program administered by American Councils.
The summer FLAS Fellowship program awards fellowships to undergraduate, graduate, and professional students who are seeking to complete an intensive language program over the summer term. Intensive programs meet 15-20 hours per week for at least six weeks, meaning that students complete the equivalent of a whole year's language study over the course of a couple of months. The fellowship provides a stipend and tuition benefit to students. The application for summer 2022 fellowships will open in fall 2021.   
Pictured from left to right: Claire Olechiw, Nick Seay, and Kelila Thomsen
---