May 4, 2023
CSEEES Summer 2023 FLAS Fellows
Image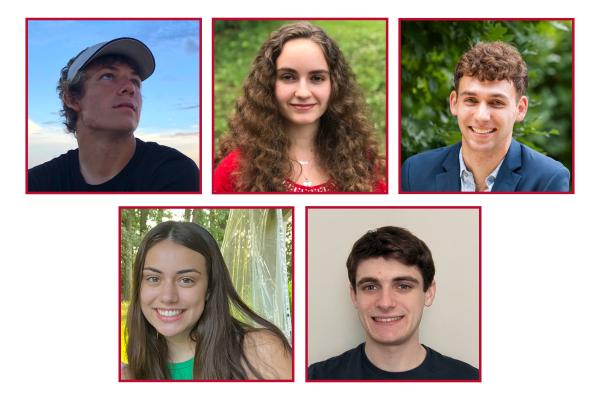 Description
The Center for Slavic, East European and Eurasian Studies congratulates its five Foreign Language and Area Studies (FLAS) Fellowship recipients for summer 2023.
Larkin Cleland, an undergraduate Islamic Studies, Arabic, and Geography major, will travel to Dushanbe, Tajikistan to study 4th-year Dari in the Eurasian Regional Language Program offered by American Councils. Larkin's long-term career goal is to work for international NGOs in Central Asia in humanitarian aid, first in field roles and later in international aid policy.
Margot Hare is an undergraduate Russian, Linguistics, and Computer and Information Science major who will study 5th-year Russian at the Middlebury College Russian Immersion Program. Margot plans to combine her strengths and interests in solving puzzles and analyzing data to become a Russian language analyst.
Ella Meyer is an undergraduate International Studies and Russian major who will study 4th-year Russian in the SRAS Russian as a Second Language Program this summer in Bishkek, Kyrgyzstan. Ella aspires to be a political analyst in the intelligence community, and knows she must improve her language skills and cultural understanding to reach this goal.
Joshua Silver, an undergraduate History major with a Russian minor, will attend Middlebury College's Russian Immersion Program to study 5th-year Russian.  Joshua hopes to find a career in which he will be able to frequently use his Russian language skills and history training, such as in the intelligence community or the U.S. Foreign Service.
Julian Smith is an undergraduate Philosophy, Politics, and Economics major. He will study 3rd-year Russian in the Advanced Russian Language and Area Studies Program at American Councils in Almaty, Kazakhstan. Julian hopes to take his language and cultural knowledge about Kazakh and Russian people and apply it towards a career in public service, particularly with the U.S. Department of State.
The summer FLAS Fellowship program awards fellowships to undergraduate, graduate, and professional students who are seeking to complete an intensive language program over the summer term. Intensive programs meet 15-20 hours per week for at least six weeks, meaning that students complete the equivalent of a whole year's language study over the course of a couple of months. The fellowship provides a stipend and tuition benefit to students. The application for summer 2024 fellowships will open in fall 2023.  
---