September 24, 2019
CSEES Wins Grant for University Partnership Program with University of Belgrade
Image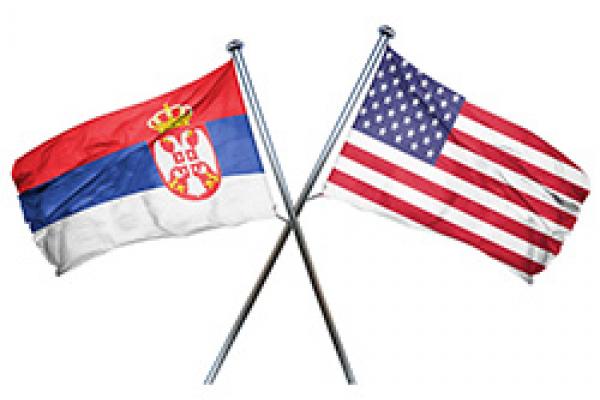 Description
The Center for Slavic and East European Studies (CSEES) is excited to announce that it has recently received a grant from the Department of State to create the Serbian Educational Alliance. The $300,000 grant will increase collaborations and partnerships between The Ohio State University and the University of Belgrade with the close cooperation of and support from the U.S. Embassy in Belgrade. The Alliance will officially begin activities in January 2020 that will run through December 2021.
Throughout the two years of the grant, the Serbian Educational Alliance will foster activities in three primary areas: classroom activities, research, and joint seminars and workshops. Faculty from a variety of departments and disciplines will be involved.
At the classroom level, courses at Ohio State and the U. of Belgrade will connect virtually up to three times per semester during spring 2020, autumn 2020, spring 2021, and autumn 2021. In particular, the grant will connect courses that focus on U.S., Russian, and Serbian history and cultural connections, media theory and media consumption, and identity and viewership. These courses have been selected because they will give Ohio State undergraduate and graduate students the opportunity to connect with their peers at the U. of Belgrade and engage in discussion of important global issues, while broadening each side's perspective on these issues. Additionally, each year three faculty from the U. of Belgrade will be invited to Ohio State for a week to deliver lectures and attend seminars, workshops, and conferences on campus that connect with their research. These visits will facilitate future linkages and areas of cooperation.
In terms of research, two key projects will be supported. First, the grant will fund a comparative survey on foreign policy attitudes in Serbia, Serbian relations and integration with the EU, the U.S., and western Europe, and Serbian citizens' endorsement of domestic or international disinformation. Ohio State Professors Olga Kamenchuk (School of Communication) and Erik Nisbet (School of Communication) will compare the survey data collected from Serbia to similar surveys conducted in Russia and Ukraine as part of the Eurasian Security and Governance Program that they co-direct at the Mershon Center for International Security Studies. As part of the research project, Professors Kamenchuk and Nisbet will work with a small team of faculty from the U. of Belgrade to analyze and share the data publicly, including through team meetings and workshops in Belgrade and Columbus. Second, the grant will support work started by Professor Andrea Sims (Department of Linguistics) with U. of Belgrade faculty member Professor Dušica Filipović Đurđevič. The pair are developing a pilot study that will use typological work to develop experimental predictions for Serbian cognitive processing of word structure. This project builds on research of both Professors Sims and Filipović Đurđevič that has explored questions related to morphological network structure, but from different perspectives and using different methodologies. The pilot study will allow them to connect what has until now been their two separate research agendas with the goal of developing a better understanding of how the cognitive processing of word structure shapes language change. In addition to these two projects, the SEA will share relevant monographs from OSU faculty to enrich library holdings and share research perspectives with U. of Belgrade's faculty through a gift to the university library.
The third main sphere of the university partnership is to co-organize with the U. of Belgrade a series of collaborative seminars, workshops, and conferences that will provide face-to-face opportunities for faculty and students at both universities to interact with each other. Each spring, CSEES will host a delegation of U. of Belgrade faculty and students who will come to Columbus to attend the Midwest Slavic Conference. The Midwest Slavic Conference is the largest regional Slavic studies meeting in the country and has been organized by CSEES and held at OSU since 2003. Through the two-and-a-half-day conference, U. of Belgrade faculty and students will be able to present their research, network with students and scholars from across the U.S., and listen to presentations on topics related to Eastern Europe and Eurasia from a multitude of perspectives and disciplines. Directly following the conference, CSEES will organize a two-day workshop or simulation focused on a timely topic affecting foreign policy in Eastern Europe and/or with the U.S. to give OSU and Serbian students the opportunity to work with each other as they master new concepts and apply skills to simulations. During their time in Columbus, U. of Belgrade faculty will also be invited to participate in a half-day session run by the University Institute for Teaching and Learning (UITL) on pedagogy and teaching methods. A final portion of the collaborative piece of the grant is devoted to faculty exchange and travel to Serbia. Professor Yana Hashamova, chair of the Department of Slavic and East European Languages and Cultures, will offer a one- or two-day workshop in Belgrade to give students background in relevant theories about media, identity formation, and viewership. Professor Theodora Dragostinova, Department of History, will travel to Belgrade to explore establishing a study abroad program there for OSU students, as well as to establish a new research collaboration with Serbian scholars on the topic of Yugoslavian influences in Africa and the Middle East during the Cold War. In 2021, the director of CSEES, Professor Angela Brintlinger, will travel to Serbia as part of a group from UITL that will run a larger workshop on teaching methods and pedagogy to allow for an exchange between U.S. and Serbian scholars on best practices.
Look for more information and updates on the Serbian Educational Alliance as CSEES finalizes and launches this exciting programming!
---