September 30, 2022
Delving into Thesis Research: Shannon Curley Explores the Balkans
Image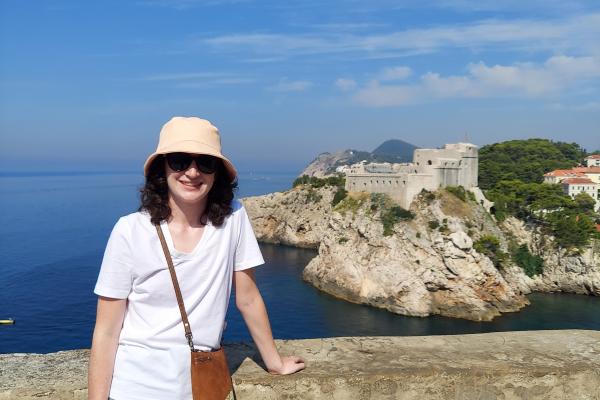 Description
Written by Shannon Curley
Shannon Curley is a second-year MA student in Slavic, East European and Eurasian Studies with a focus on Bosnia and the Balkans. She completed her undergraduate degree at SUNY Geneseo where she majored in History and Geography with a minor in Environmental Studies. Her primary research interests involve exploring representations of history and identity in tourism.
Visiting five cities in four countries over two and a half weeks this summer was a whirlwind. Thanks to the Office of International Affairs' International Research and Scholarship Grant, I was able to travel to Croatia, Montenegro, Bosnia and Herzegovina, and Serbia to conduct research on tourism for my MA thesis. I went to study tourism as a worlding practice; in other words, I am interested in the ways in which tourist activities reflect engagement with global processes. Furthermore, I hope to uncover how these engagements contribute to local, regional, national, and global forms of identity formation. This research opportunity was especially pivotal for my project, allowing me to encounter sites and interact with travelers during peak tourism season.
I started in Dubrovnik, Croatia—a hot spot for tourism due to its coastal position and, over the past few years, role as the filming location for King's Landing in HBO's Game of Thrones. In addition to walking the city's walls with a GoT enthusiast, I was able to visit the recently opened (2019) Red History Museum which received national status from the Croatian Ministry of Culture this May. This was a unique experience because the museum is located outside of Dubrovnik's main tourist area, Old Town, and is focused solely on Yugoslav history. Here I also made connections to OSU coursework like Ashley Bigham's Slavic and East European Architecture seminar. During this course, some of my classmates made a model K67 Kiosk designed by Slovenian architect Saša Mächtig while another created a chess set based on Soviet architecture due to the popularity of the sport in the USSR. At the interactive Red History Museum, I walked into a K67 Kiosk and learned about when Dubrovnik hosted the Chess Olympics (1950—the year the USSR boycotted the competition and the only time Yugoslavia won the gold medal) while playing a game of chess with someone from my hostel.
Next, I headed to Budva, Montenegro where I (unknowingly) visited a beach right next to Sveti Stefan, a small island turned luxury resort that also served as the location of the 1992 Chess Olympics I had just read about in Dubrovnik's Red History Museum. Despite the sweltering summer heat, Budva's small Old Town and surrounding beaches were bustling with activity at the end of July. Articles I had read about development in Budva came to mind as I read real-estate investment advertisements from the bus window.
Leaving the coast, I took the bus to Mostar and then Sarajevo to revisit locations that had served as inspiration for my first research project on tourism in 2019. The sites I visited in these cities will allow me to draw comparisons to pre-COVID Bosnian tourist experiences. For example, I stayed in the same hostel in Mostar which had been closed for nearly three years, having just reopened in June 2022. The hostel looked the same as I remembered, though there were no longer additional staff members and the owner mentioned that bunkbeds had been removed from the dorms. Based on my conversation with the owner, this reduction to single beds is at least partially motivated by pace—previously, the number of travelers coming in and out of the hostel each day was overwhelming. This, alongside the outright reduction in visitors that Mostar and other cities are still encountering, provides a compelling insight into shifts in tourism since the start of the COVID-19 pandemic.            
Finally, I flew to Belgrade where I explored popular sites such as Kalemegdan Park, the National Gallery, and the Museum of Yugoslavia. Thanks to the Serbian Educational Alliance, I was also able to connect with Milan Krstic, a professor at the University of Belgrade who I had met previously in Columbus and who was kind enough to show me around the city during my stay.
To conclude, I will tell an uncanny story from my first night in Belgrade. Having just eaten dinner alone, I accompanied a hostel roommate who had also just arrived when she went for something to eat. Upon returning, I checked my phone for messages from friends and family. Knowing I was traveling in the Balkans, one friend had sent me a TikTok video of a travel diary from Banja Luka. It turns out that the person who had posted the TikTok was my hostel roommate! This experience stuck with me and looking back at her profile, her travel videos are often viewed between 5,000 and 100,000 times. The global reach that travelers like this roommate are able to leverage is part of the research question that I am eager to explore through the thesis writing process this year.
---