March 31, 2022
March 2022 CSEEES Alumni Profile: Taylor Reynolds
Image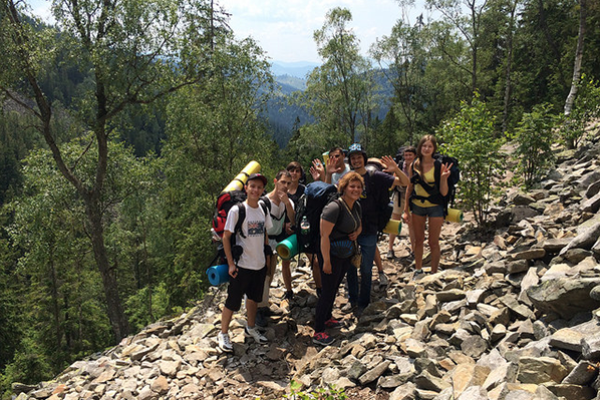 Description
Taylor Reynolds, MA in Slavic and East European Studies, Class of 2016 
Where do you work and what is your current position? 
I currently work at Franklin University in Columbus, Ohio. I am a Senior Coordinator in our International Office. I have the opportunity to work with international students in a variety of ways. I help guide them through the immigration process while they are in the U.S. I also work with our global partnerships around the world, for our students who are earning a Franklin degree from their home country. Outside of these roles, I specifically focus on building and implementing specialized programming and events for both our in-country students and global visitors. 
Tell us how you got there. 
The journey to my current position really started with my time at CSEEES. I was a FLAS Fellow during the summer before completing my MA. I was able to study abroad in St. Petersburg, Russia. After graduating, I was also a Peace Corps Volunteer in Ukraine. I gained experience living, learning, and working abroad. All of my real-life experiences prepared me well for my current position. 
How has your CSEEES MA helped you throughout your post-graduate life? 
The CSEEES MA was the catalyst that allowed me to create my current career path. During my studies, I focused on Central Asian migration to Russia. I also had the chance to study Russian and Uzbek. I was exposed to the world of international immigration policy, and my interests translated well both in my experiences living abroad and in my current job. 
If you are a traveler, what is one of your favorite trips you have taken? 
I really loved traveling around Ukraine. I once took a trip to the Carpathian Mountains that was unforgettable!  
What are your future plans? 
I hope to incorporate my research interests into my career moving forward. I also will continue to participate in opportunities that will maintain my language skills in both Russian and Ukrainian. 
What inspires you? 
I am always motivated to connect to people that are different from me, especially across languages and cultures. I am also really inspired by new places and experiences. 
---