June 2, 2022
May 2022 CSEEES FLAS Alumni Profile: Christine Parker
Image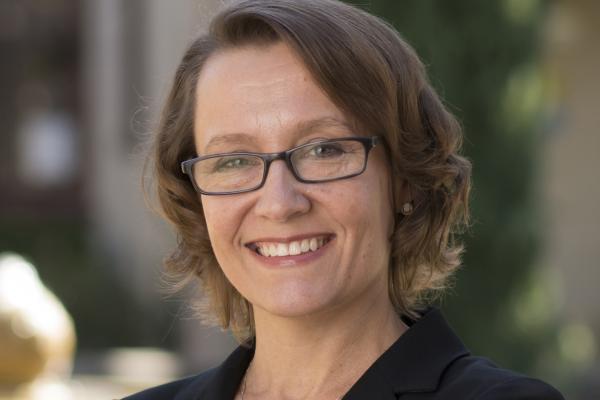 Description
Christine Parker, PhD in Educational Policy and Leadership, Class of 2003
1993-1994 Academic Year FLAS Fellowship Recipient for Elementary Serbo-Croatian, 2000-2001 for Advanced Polish, Dissertation Research
Where do you work and what is your current position? 
I am the Executive Director of Academic Summer Programs here at Ohio State.
Tell us how you got there. 
After completing my PhD at Ohio State in 2003, I stepped into a role in High School Research and Development at The Princeton Review in New York. I had worked as a teacher and trainer for TPR on and off throughout my time in Columbus, and knew the team there, and so was able to leverage that into my first real full-time job. While I was disappointed that I wasn't successful on the academic job market, I loved that I could stay in education and focus on building programs in high schools to help provide more access to high-quality SAT and ACT test preparation. In 2008, I landed a new position at Stanford University in what became known as Stanford Pre-Collegiate Studies. There I grew academically rigorous non-credit residential programs for middle and high school students from every corner of the globe and learned a lot about how to manage people and solve complex, real-world problems. But at its essence, my work at Stanford allowed me to bring instructors and undergraduate mentors together to create really inspirational academic experiences for our student participants. After nearly 10 years at Stanford, I took a role as Executive Director of Summer Session at the University of Chicago, overseeing both precollege and undergraduate programs on campus until COVID shifted our activities online for two years. I bring all that experience to OSU in my new role.
How have your CSEEES FLAS fellowships helped you throughout your post-graduate life?
My FLAS experiences made me a braver person, and one who became comfortable diving into the unknown and just figuring out how to get what I needed done. I am now, as they say, comfortable with ambiguity – a valuable trait in the modern workplace.
What was your focus or research interest when you studied at OSU? 
I started my OSU journey in the Department of Slavic and East European Languages and Cultures, focusing on historical linguistics, but shifted graduate programs once I realized I wanted to impact students in a more direct way through teaching. I was also interested in exploring education's potential for community building and identity formation in the face of forces wanting to leverage it for other purposes. As a PhD student in the mid-1990s with significant travel and foreign language experience, I ended up in the Humanistic Foundations of Education sub-area with a focus on educational change in the post-Communist period. I was really interested in how entire nations were grappling with the profound political and economic changes wrought by the end of the Soviet Union. How do you re-write history in this moment in time? My doctoral work eventually focused on this exact question; I studied the update of the national history curriculum in Poland between 1991 and 2001. I was less interested in the final law, and more in the process and the conversations that people had in this liminal period. Supported by a Fulbright Fellowship, I interviewed over 50 educators across Poland who partook in some part of that multi-phased process. All in all, it was a project that was really mine, and it was informed by an astonishing group of people who were trying to imagine a new reality for their nation. The experience engendered a mix of inspiration and frustration but was a good example of how complex the world is, and how difficult real reform work can be.
If you are a traveler, what is one of your favorite trips you have taken? 
My last travel before COVID stands out: I went to Helsinki, Finland, for a conference and arrived several days early to explore the city. I loved everything about it, especially the scorching hot sauna followed by a jump into the Gulf of Finland. Refreshing!
What are your future plans?
I have the opportunity to build new programs here at OSU to benefit so many people: our student participants, our undergraduate and graduate staff, and partners on campus who need more resources to extend their work to the community. It's a big lift, so I will be spending the next few years building a solid foundation, then expanding our reach. The programs I hope to build may be short term in duration for participants, but over and over I have observed how students' belief in their own capabilities can be strengthened through positive experiences that challenge their minds and inspire them to reach for more for themselves. This work will never stop for me. 
What inspires you? 
The curiosity of young minds, the enthusiasm and generosity of talented educators, and the dedication of the hundreds of undergrad and grad students I've worked with who gave back to mentor the next generation of learners.
---