March 10, 2023
Ohio State Volunteers Made Olympiadas a Success
Image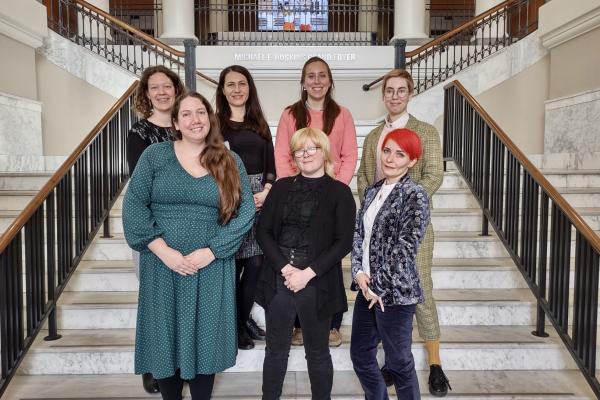 Description
The Center for Slavic, East European and Eurasian Studies (CSEEES) at The Ohio State University would like to thank all the volunteers and organizers of this year's Undergraduate and K-12 Olympiadas of Spoken Russian. This year, the Undergraduate Olympiada held at Bowling Green State University was organized by BGSU professors Dr. Timothy Pogacar and Dr. Irina Stakhanova and Alicia Baca, the Outreach Coordinator at CSEEES. The K-12 Olympiada held on the Ohio State campus was organized by Baca and Dr. Larysa Stepanova, Language Program Director in the Department of Slavic and East European Languages and Cultures (DSEELC). Their hard work made the events fun and rewarding for everyone involved.
We are particularly thankful to the Ohio State students and staff who took time out of their weekends to serve as judges. Sofia Bachman (DSEELC PhD student), Lilia Caserta (DSEELC lecturer), Aleksandra Shubina (DSEELC PhD student), Michelle Verbitskaya (DSEELC PhD student), and Lejla Veskovic (DSEELC MA student) judged both competitions. They were joined by Andrey Ridling (DSEELC MA student), Siobhan Seigne (DSEELC MA student), Teresa Temu (CSEEES/CNIS lecturer), and Ekaterina Tikhonyuk (DSEELC PhD student) who all contributed their skills for a weekend, as well.
More than just volunteering, many of the judges noted that the Olympiadas gave them the opportunity to network with other Russian language instructors across the state and share professional experiences. Shubina explained: "I was glad to meet genuinely enthusiastic colleagues from different colleges across Ohio and feel that they share my values." Verbitskaya pointed out, "When I was judging 3rd and 4th level students with my colleagues, we noticed the different skills and strengths that students from various institutions had. That sparked a conversation about how we can collaborate and learn from each other to strengthen the teaching of Russian across institutions." Hopefully these conversations are just the beginning of a fruitful dialogue.
The contestants' camaraderie at the Olympiada brought back happy childhood memories for Verbitskaya, who said "seeing Olympiada attendees quietly recite poems in anxious anticipation of presenting, give each other pep talks, and be genuinely happy for their and their peers' achievements and prizes brought me back to my school years and Olympiada days. I often look back on those days as some of my happiest experiences, and I sincerely hope that this year's contestants will one day remember the Olympiada and feel joyous nostalgia." Seigne remarked, "I wish that in undergrad I'd had competitions like this available because I think they're a great way for students to see their language at work outside of the classroom, as well as network with other students in the field."
Thanks also to Dr. Angela Brintlinger (CSEEES Director and DSEELC Chair), Gillian Ginley (CSEEES intern) and Derek Peterson (DSEELC Academic Program Coordinator) for their contributions to making the events such a success! CSEEES's support for the Olympiadas comes in part from our U.S. Department of Education Title VI grant, with the goal of promoting the study and teaching of Russian throughout the state of Ohio.

Congratulations once again to all the winners, and special thanks to the teachers and parents for their encouragement and support. We hope you also enjoyed the events and look forward to seeing you again next year!
---