March 29, 2019
SRI Announces 2019 Faculty Exchange Recipients
Image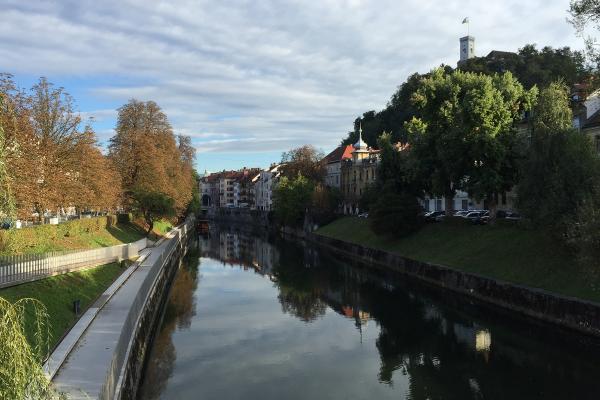 Description
The Slovene Research Initiative (SRI) of the Center for Slavic and East European Studies is excited to announce the results of its 2019 Faculty Exchange Program. This year, SRI will be able to send three sets of scholars for two weeks each: Ashley Bigham and Erik Herrmann (Knowlton School of Architecture), Anne Carey (School of Earth Sciences), and Nena Couch (The Ohio State University Libraries). The Faculty Exchange Program is made possible through a partnership with the Research Centre of the Slovenian Academy of Sciences and Arts. Congratulations!
As part of their award, Ashley Bigham and Erik Herrmann will be spending two weeks at the Research Centre of the Slovenian Academy of Sciences and Arts in Ljubljana, Slovenia. There, they will be studying the legacy of the Faculty of Architecture in Ljubljana, which is celebrating the 100th anniversary of its founding this year. It is regarded as one of the strongest architecture schools in Central Europe. Jože Plečnik and Ivan Vurnik, two of the founding members of the Faculty, both left a significant architectural legacy in Slovenia. Bigham's and Herrmann's work will investigate the pedagogical legacy of the school by studying three of its notable living alumni through interviews and archival work. Following completion of the research project, Bigham and Herrmann will produce a series of interview featurettes, and aim to publish their research as well.
Anne Carey will continue field work started in 2017 with collaborators W. Berry Lyons (Ohio State) and Matija Zorn and Blaž Komac (Anton Melik Geographic Institute, Research Centre of the Slovenian Academy of Sciences and Arts). During her time in Slovenia, Carey will obtain ice core samples from cave ice within the Paradana Cave, as well as ice from the Triglav glacieret. These samples will then be brought back to Ohio State to be analyzed in the School of Earth Sciences' labs. Tests will analyze oxygen isotopic ratios that will help to reveal a climate record  linked to sea surface temperatures over the time that the ice was deposited. There have been few detailed investigations of cave ice to date, making this research of the Paradana Cave and Triglav glacieret an important contribution to the understanding of Central European climate changes in the past two millennia. Results of the 2017 research have already been presented at conferences and are part of several forthcoming publications, including "Glaciochemistry of Cave Ice: Paradana and Snežna Caves, Slovenia" published in Geosciences in February (Carey et al., 2019). 
Nena Couch will work closely with faculty from the Institute of Ethnomusicology of the Research Centre of the Slovenian Academy of Sciences and Arts to research Slovene folk dance. The Institute of Ethnomusicology houses an extensive collection of notated and described folk dances. As part of her time in Ljubljana, Nena will examine the specific dances and dance types that have been documented, as well as the system used for notating or documenting them. Related to this, she also intends to start researching influences on Slovene folk dance, in particular after WWII, to understand the "authentic" versus "adopted" natures of these dances. Many of the dance scores held by the Institute of Ethnomusicology are only available domestically. Following her work in the summer, Nena aims to continue her work with faculty at the Institute to explore the possibility of preserving and digitizing these resources to increase access to them internationally.  
Works Cited:
Carey, A. E., M. Zorn, J. Tičar, M. Lipar, B. Komac, S. A. Welch, D. F. Smith, and W. B. Lyons, 2019, Glaciochemistry of cave ice: Paradana and Snežna Caves, Slovenia, Geosciences, 9(2):94.
---