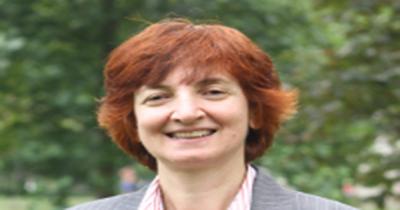 Dear Colleagues, Students, Alumni and Friends of Slavic,
I am happy that I am able to address you now in fall 2014 after the Slavic Center was awarded Title VI NRC and FLAS grants for the next four years! I am also honored and grateful to work for the advancement of our mission at such a transformative and exciting time in the history of the Title VI program.
New demands and expectations have been placed on this program and the number of Russian and East European National Resource Centers in the U.S. has been reduced from 16 to 12. Fortunately, the Slavic Center at Ohio State will continue to support innovative and collaborative research and teaching and, in general, all forms of production of knowledge about our areas of the world.
No doubt, a major part of our success is due to your hard work and high achievements in research, teaching and community engagement. I am also grateful to the Office of International Affairs, the Graduate School and the College of Arts and Sciences for their support that made our grant proposal highly competitive. In addition, we have created new programs enhancing the study and learning of languages and cultures of our regions in institutions serving underrepresented groups all over the country. We have established collaborations with Central New Mexico Community College (NM); University of Alaska Fairbanks Community and Technical College (AK); Bluegrass Community and Technical College (KY); Lakeland Community College (OH) and Howard University (Washington D.C.). We also have a new teacher training program designed in collaboration with Ohio State's College of Education and Human Ecology.
Aside from these initiatives, we will continue to support the teaching of Bosnian-Croatian-Serbian, Polish, Romanian, Russian and Uzbek and a variety of other area-related projects. We are proud to be able to continue to host, now for more than 15 years, the Midwest Slavic Conference, an excellent venue of inquiry that enables scholars, graduate and undergraduate students to present their findings, receive valuable feedback and network.
Last but not least, we work hard to recruit excellent students to our MA program, students who after graduation successfully find suitable employment. This year we have a cohort of eight graduate students with diverse backgrounds and interests.
For more details on our programs and activities, please explore our newsletter.
With all that in mind, I ask you to give today and support our students and programs!
With best wishes,
Yana Hashamova
---