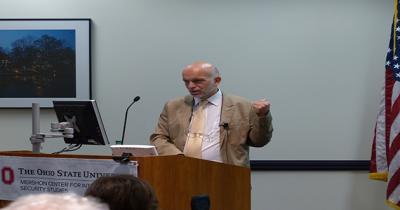 On October 2, 2014, the Ohio State academic community was privileged to attend a presentation by Archil Gegeshidze, the Ambassador from the Republic of Georgia to the United States, on "Georgia: Why It Matters." Gegeshidze received his PhD from Tbilisi University in economic and social geography in 1985. Since then he has worked as a senior fellow at the Georgian think tank, the Foundation for Strategic and International Studies, and spent a year as a Fulbright Visiting Scholar at Stanford University (2004-05).
Ambassador Gegeshidze has served in various capacities for the government of Georgia since 1994. He was appointed Ambassador of Georgia to the United States in March of 2013. His professional expertise is in regional security and cooperation in the South Caucasus and Euro-Atlantic integration, specializations that uniquely qualify him to discuss Georgia's relations with its neighboring countries, including on-going contentions with Russia, as well as Georgia's strong desire to join the EU and NATO. He has authored numerous publications on Georgia's foreign and security policy and the transformation of regional conflicts.
In his presentation, Ambassador Gegeshidze emphasized his native country's cultural value and strategic importance to both hemispheres. Although it was the first time the ambassador had presented such a talk, he offered a lively introduction to all aspects of Georgia including its diverse and fabled geography, its distinctive people with their completely unique language, the country's vibrant arts and culture and its tumultuous history. The ambassador then proceeded to speak about Georgia's strategic importance as a crossroad between Western Asia and Eastern Europe, particularly as a link in energy pipelines and access to the Black Sea. Russia's recent incursions in Crimea and Ukraine and Georgia's desire for Western alliances were also discussed. Ambassador Gegeshidze foresaw no simple solution to either topic, but expressed hope that his country would remain independent and at the forefront of the agenda of the West.
---