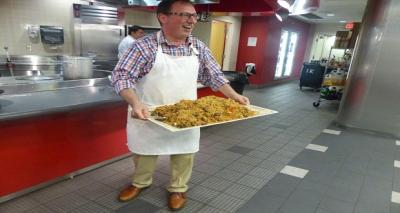 For three weeks in July, the Center for Slavic and East European Studies (CSEES), in partnership with Ohio State's Department of History, hosted 25 K-12 teachers on
campus for an intensive workshop on Central Asia led by history Professor Scott Levi. The workshop, "Central Asia in World History," was made possible through a grant from the National Endowment for the Humanities. Participating teachers came from all across the U.S.: New Mexico, Wisconsin, Indiana, Missouri, Oregon, Maryland, New York, Louisiana, Michigan, Texas, Illinois, California, Washington, North Carolina and three from Ohio. While most attendees were social studies teachers, several also teach art, language arts or interdisciplinary courses.
The goal of the institute was to encourage teachers to integrate more content about Central Asia into their classrooms. While many of the teachers had some knowledge of the region and a few had even travelled there, all expressed a desire to know more. Levi created a slate of activities that provided teachers more information on the history and culture of the region, and challenged common misconceptions. He and guest experts guided the teachers through lectures and readings, while a variety of special events gave the participants the opportunity to experience and see Central Asian culture firsthand.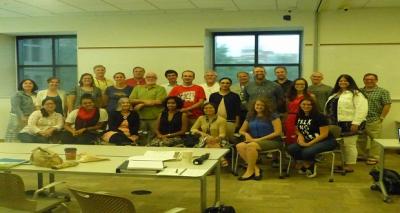 The first week started with a flurry of activity as the teachers got acclimated to life in the residence halls and took a crash course on the myriad resources available
on campus, in particular through the University Libraries. During the first week, Levi introduced the teachers to the field of world history and scholarship on the Silk Road; guest expert Dan Prior (Miami University) discussed nomadism; Carter Findley (Ohio State) lectured on Turks in world history and their influence in the Middle East and Central Asia; and Ron Sela (Indiana University) encouraged teachers to question the sources of information and popular travelers' tales that portray journeys through the region. On the first Saturday of the institute, the Cleveland Museum of Art brought a traveling exhibit of Central Asian art and cultural relics for the teachers to view and touch. This event was held in the Special Collections Reading Room and hosted by the staff of the Hilandar Research Library.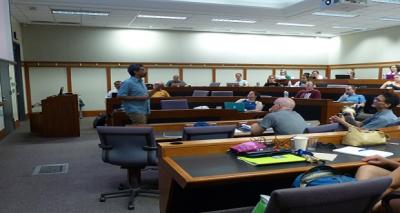 During the second week, teachers worked with pedagogy expert Bobbie Mucha to consider new approaches to their teaching and to brain storm about the unit plan
that they were tasked with creating as their final assignment for the institute. Guest experts Tim May (University of North Georgia), Nurten Kilic-Schubel (Kenyon College), Adeeb Khalid (Carleton College) and Russell Zanca (Northeastern Illinois University) spoke about the Mongol empire and its legacy; the influence of Islam on the cultures and peoples of Central Asia over time and different reform movements; questions related to gender and society; the Great Game; and everyday life in an Uzbek village. Week two ended with a Saturday filled with Central Asian music and food. The Silk Road Ensemble, a group of musicians from Indiana University, played traditional Central Asian music and danced. This was then followed by a two hour cooking demonstration led by Scott Levi and Russell Zanca, which highlighted the culinary culture of the region while showing teachers how to prepare several Central Asian dishes.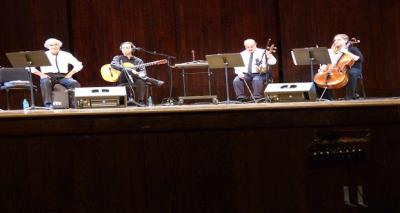 For the last week of the institute, the participants learned about Soviet Central Asia from Douglas Northrop (University of Michigan); gender in Soviet Central Asia and
collectivization with Marianne Kamp (University of Wyoming); and changes occurring in Central Asia over the past two decades by Morgan Liu (Ohio State). To wrap up, the teachers presented their research projects, highlighting their own interests and getting feedback and ideas from the other teachers on how to improve their unit plans. Their unit plans are available through the institute's webpage to help further disseminate information and are available for download.
The teachers returned to their classrooms, but the institute will have a lasting impact. As one participant said, "This institute was life changing! I'm going to completely overhaul the way I teach World History based on all that I learned." And from another teacher: "My Institute experience was multi-faceted and dynamic. It infused new energy and enthusiasm into my teaching and pushed me into avenues of knowledge I might not have sought on my own."
CSEES will work to organize similar events and area studies training programs for teachers in the future.
---