Jared Dye and Christopher Guerrini, CSEES MA students pursuing dual degrees with the John Glenn College of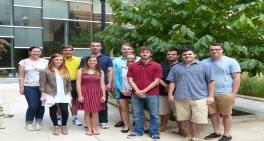 Public Affairs, worked as interns for the State of Ohio last summer. Christoper wrote that he believes the experience was "one where I gained skills I can apply in a foreign setting." Jared worked as a development assistant for Clean Fuels Ohio, a statewide nonprofit organization focusing on displacing petroleum and reducing harmful air pollutants by helping private and public fleets in Ohio convert to alternative fuel systems (i.e. propane, natural gas, electric, biodiesel). He assisted with outreach and administration for Clean Fuels Ohio's (CFO) membership program. He also searched for grant opportunities to support CFO operations, CFO-sponsored events and  members' efforts to convert fleets to alternative fuel technologies. In addition to his responsibilities in development, Jared kept up-to-date with the alternative fuel and electric vehicle industries in order to post news on social media that may be relevant to their members and other interested stakeholders.
Christopher interned at the Ohio Office of Budget Management (OBM),a cabinet-level agency providing policy analysis, fiscal research and financial management services to the governor and state agencies, helping to ensure proper use of state resources. Some of Chris' responsibilities included analyzing fiscal activities utilizing qualitative and quantitative data; developing survey and assessment material; collecting, analyzing and summarizing data at varying levels of detail; and preparing issue and options analyses, including proposed recommendations for OBM leadership. One of the projects related to examining criteria used by credit rating agencies to assess some of Ohio's bonds, and developing a set of pertinent data the state could use to market itself better to these agencies.
---