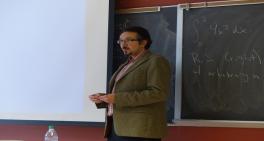 This academic year, the Center for Slavic and East European Studies (CSEES) requested speaker ideas from our
affiliated faculty and colleagues. We received quite a number of suggestions and, as a result, we expanded our lecture series to include topics ranging from current Hungarian politics to nationalism in Bosnia and a special Halloween lecture about Vlad the Impaler.
Umut Korkut: "The Consolidation of Illiberal Politics in Hungary: Christianity, Anti-Modernism, Conservatism and Europe"
Hungarian Prime Minister Viktor Orban, declared Hungary as an "illiberal democracy" in 2014 and expressed intentions to diverge from the European Union (EU) and strengthen nationalism at home. In this lecture, Dr. Korkut (Glasgow Caledonian University) explored what factors led Hungary to become the European Union's first illiberal democracy. From the financial crisis of 2008, to European integration, and the influx of refugees and asylum seekers into Europe, right-wing Hungarian politicians have responded with conservative and anti-modernist policies that favor the middle-class, white, heterosexual members of society while alienating and disadvantaging the social and ethnic minorities. Korkut expanded his study to include other countries, such as France and Turkey, demonstrating how illiberal politics are not unique to Hungary, but are gaining in popularity as a response to the economic and social liberalization. The lecture was followed by a lively discussion, which highlighted the differing opinions that prevail about how Hungary should respond to EU policies on refugee resettlement and protection of minorities.
Edin Hajdarpasic: "Suffering and the History of Nationalist Emotions in Yugoslav Politics"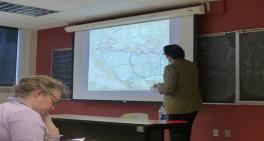 Dr. Edin Hajdarpasic (Loyola University Chicago) delivered a fascinating lecture on the role that suffering plays in nationalist politics and discourse. Using Bosnia as a case study, he explained that this country is an ideal ground for examining collective suffering and its effect on nationalism. Since Bosnia was held captive by foreign forces from the 15th to 20th centuries, it experienced centuries of oppression at the hands of the Ottoman Turks and Austro-Hungarian Empire. Hajdarpasic explained that this suffering was internalized and formed a collective identity in Bosnia. Expressions of this suffering appeared in art and literature and lived on through the Yugoslav times and created a collective consciousness of pain and deep lamentation. Hajdarpasic explained that the trend of nationalist suffering was not particular to Bosnia, in fact it was popular throughout the 19th century. When asked why suffering went hand-in-hand with nationalist rhetoric, Hajdarpasic explained that with suffering comes an obligation, a duty. It evoked a humanitarian concern to help one's fellow countrymen and thus was a unifying force.
Justin Ciucevich: "The Impaler, the Count, and the Stake of a Nation: Romania's 'Dracula Dilemma' and the Question of National Identity"
Justin Ciucevich, MA student at the CSEES, gave a special Halloween lecture on Vlad the Impaler and the role Dracula plays in Romania today. Vlad III came to be revered in Romanian history for his brutal tactics used to defend his homeland. Also known as Vlad the Impaler, he lived in Romania in the 15th century and was the son of Vlad II, who was a member of the Order of the Dragon, a league that aimed to drive out the Ottoman Turks from the Balkans. Vlad III took the name Dracula, meaning son of the Dragon and furthered his father's mission to defend his homeland from the Turks, often using brutal means to assert his power and instill fear in his enemies, making him a national hero. Our modern day perception of Dracula can be credited to Irish author Bram Stoker, who chose Count Dracula to embody his literary vampire. Thus, Transylvania has become synonymous with blood-sucking vampires. Justin described the "Dracula Dilemma" in Romania, as one of "identity versus economy." On the one hand, Dracula draws in many tourists to Transylvania and provides financial benefit to the region, however, in Romania, the Western notion of Dracula is seen as cultural imperialism in which the West has Balkanized, Orientalized and "otherized." For now, Dracula remains, but some Romanians hope that this fascination with blood-sucking vampires from Transylvania will pass.  
---