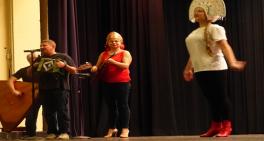 On Wednesday, Oct. 26, the Center for Slavic and East European Studies (CSEES) sponsored an outreach event at
Walnut Hills High School in Cincinnati, Ohio. Walnut Hills has a longstanding Russian language program, taught by Johanka Hart-Tompkins. This year Hart-Tompkins is teaching 36 Russian language learners in four different levels.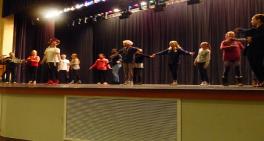 Each year, students in Hart-Tompkins' class come to Ohio State for the Russian Olympiada, hosted by the
DSEELC and CSEES. To encourage more students to study Russian at Walnut Hills, CSEES sponsored an event for all Walnut Hills students introducing them to Russian language, music and dance. Barynya dance troupe gave two performances much to the excitement of the students and staff. Barynya is a troupe led by Mikhail Smirnov and made up of Russian émigrés who now live in New Jersey and tour the country performing traditional Russian dance and music. They played traditional Russian instruments such as the balalaika, the balalaika contra bass and the Russian push-button accordion known as the garmon. They performed a variety of traditional Russian, Jewish, Ukrainian and Cossack songs and were accompanied by two dancers, who showcased a number of different ethnic dances from various regions in Russia. Dancer Simona performed a Jewish wedding dance that required her to balance a candle on her head while dancing!
The performers introduced the students to basic Russian words that the students eagerly repeated. The troupe
also opened up the stage, inviting interested students to join them and learn the dance steps to their cultural dances. Students were quick to raise their hands and run up to the stage to try out the choreography.
The dancers usually wear traditional handmade Russian costumes; but unfortunately, the night before the performance, someone broke into their trailer and stole their technical equipment, costumes and guitar. Despite their misfortune, they still managed to enthrall the audience by embracing their Russian heritage and entertaining the students and teachers in attendance. 
---