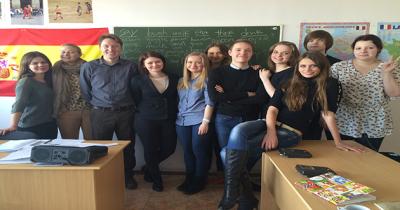 By Eric Connelly, Ohio State alumnus 2014
Since graduating from The Ohio State University last year, my life has been somewhat of a whirlwind. I am currently on fellowship with the Fulbright Program in Tyumen, Russia as an English teaching assistant at Tyumen State University.
This year has proven to be a unique time to live and work in Russia given the conflict in Ukraine and subsequent fallout in the Russian economy. Although much of my time here has been language-centered in the classroom, the issues surrounding Russia have seeped into many of the encounters I have on a daily basis. However, despite the negative headlines of the past year, I have been welcomed without reservation, just as I was in 2010 and 2011 when I first visited the region. Before enrolling at Ohio State I spent two summers in Tobolsk, a town near Tyumen, and am very fortunate to have been able to return for this year.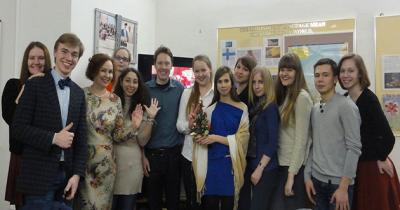 At Tyumen State University, I split my time between the Department of International Relations, where I am principally responsible for leading courses for third and fourth year students, and the Department of Economics and Law, where I collaborate with other teachers in the classroom. I often visit classes within other institutes as well to present on life in the United States, lead discussion groups, or in some other way engage students and instructors on any given topic.
As a result of the last few months, I have learned the importance and value of being flexible and adaptable to change. Expectations vary widely here. The approaches taken to education can differ between the United States and Russia. I have grown accustomed to expecting the unexpected and have in the meantime increased my ability to present to various groups on a wide range of topics pertinent to U.S. life and my own experiences.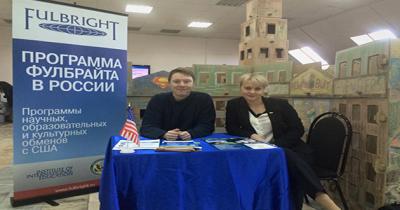 This year has provided me the best possible chance to incorporate my undergraduate studies in globalization and Russian language in a way that is practical but also personally satisfying. I have fused those studies together by organizing trainings focused on the internationalization of university campuses in Russia and Europe.
Students here are eager to connect with others from around the world and a focus of the Office of International Education has been to initiate a movement toward greater diversity among the population studying in Russian universities. To this end, we invited administrators from educational institutions throughout Tyumen, the greater Ural region and Europe on a near weeklong excursion to a camp in the Siberian forest. There we discussed the ways we can bring the benefits of pursuing education abroad to the nearly 98 percent of students in Russia who are not able to study elsewhere.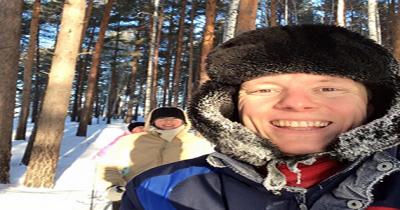 The project that I am perhaps most proud of is a workshop I developed, "The Cultural Context of Resume Writing". Resumes are an extremely important part of attaining educational and employment opportunities and can unfortunately be a major hindrance for many in Russia hoping to pursue experiences abroad. Not only is resume writing, especially in English, a difficult skill to develop, but the cultural context of the country where one hopes to go influences what should be presented to potential employers.
During this workshop, I present on the essentials of resume writing and use the nuances of what should or should not be included when writing for an American audience as a means of comparing differences between Russian, British and American cultural contexts. We first offered the workshop as part of events held to honor International Education Week last fall and have consistently received requests from university groups and others since.
In addition to those two projects, since arriving in Tyumen, I have hosted a game show for prospective university students, served as an interlocutor for English Olympiad competitions, contributed to an international business project titled "X-Culture" and hosted a blog for local students willing to share their impressions of the United States (tyumenblog.weebly.com). I have also represented the Russian Federation on the Security Council for the Tyumen State University Model United Nations twice, during which I worked with my American counterpart and other colleagues from nations around the world to tackle the issue of militarization in the Arctic, as well as the global threat ISIS poses. None of this would have been possible without the support I received from many in the Department of Slavic and East European Languages and Cultures at Ohio State. My professors there have played a pivotal role in my development and I am very grateful.
This is a year that I will never forget and I am sure that it will influence positively what I do for the rest of my life.
---