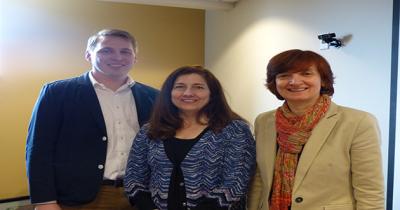 By Will Bezbatchenko and Carrie Ann Morgan, graduate students, Center for Slavic and East European Studies
Each year, the Center for Slavic and East European Studies MA students have the opportunity to choose and invite a professor from another university to present at Ohio State. On April 15, 2015, students and professors welcomed Alaina Lemon, professor of anthropology at the University of Michigan, for the Graduate Student Choice Lecture.
Lemon's presentation was titled "Circuits of Suspicion: Communication and the Cold War Occult" and focused on Cold War formations of the occult in Russia. Lemon analyzed the occult through the lens of telepathy experiments on stages, in labs and in popular films and fictions. Based partially on ethnographic fieldwork, she discussed different stances toward the occult in Russia and their significance for both Russian society and its image in the West.
The Slavic Center and its students would like to thank Professor Lemon for taking the time to meet with us and for her engaging lecture. We look forward to reading her future work on this topic.
---