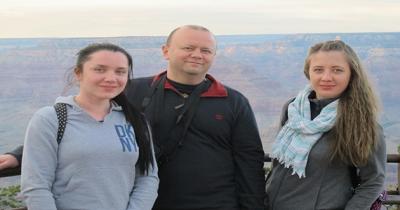 The College of Food, Agricultural and Environmental Sciences' (CFAES) Office of International Programs in Agriculture (IPA), in collaboration with Professors Stan Thompson and Allan Lines of CFAES' Department of Agricultural, Environmental and Development Economics, hosted three fellows from Ukraine from August-December 2014 through the United State Department of Agriculture, Foreign Agricultural Service's Faculty Exchange Program (FEP). These fellows are agribusiness and agricultural economics faculty from higher education institutions in Ukraine and sought to learn more about U.S. agricultural systems and policies through classroom observation, practical field visits and interaction with U.S. agricultural private sector officials through their program at Ohio State.
Olena Velychko, post graduate student in economics and agrarian economy at Dnipropetrovsk State Agrarian and Economic University (DSAEU), Viktor Orekhivskyi, associate professor of agricultural management at the National University of Life and Environmental Sciences of Ukraine, and Olena Cheberiak, instructor at Kyiv National Economic University, were all eager to return to Ukraine to apply their newly acquired knowledge of U.S. agricultural systems and classroom teaching methods.
As a result of her participation in the 2014 FEP Program, Olena Velychko of DSAEU worked with Professor Lines to develop a Memoranda of Understanding between CFAES and DSAEU in January 2015 to foster further collaboration between the two institutions.
---