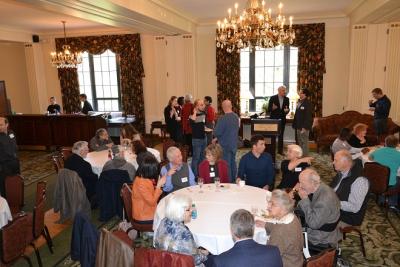 The Center for Slavic and East European Studies was proud to host the Midwest Slavic Conference for the fourteenth year in a row on the campus of Ohio State,
Friday, April 7 through Sunday, April 9. While inclement weather across the U.S. caused some travel delays and cancellations on Thursday and Friday, the conference officially started on Friday evening with an opening reception at the Faculty Club. The reception provided an opportunity for faculty, staff, students, and scholars to network and discuss their work and research.
Following the reception, conference attendees and the public were invited to a keynote address by author Anne Garrels. Garrels published her second book, Putin Country: A Journey into the Real Russia, in 2016. Putin Country is based on the observations and interviews that Garrels collected over 20 years as she repeatedly visited the city of Chelyabinsk, Russia.
Her book depicts how life for the average Russian outside of the major metropolises of Moscow and Saint Petersburg has changed since the end of the Soviet Union and how and why that has shaped citizens' opinions of their government and leaders. Garrels' central argument was that many Russians have been supportive of a government led by President Vladimir Putin and many of his policies because of their desire for political and economic stability after the tumultuous 1990s. She further stated that this was not to pass judgement on or to support the policies or decisions of the Russian government. Instead she advocated that Western governments and international and supranational organizations more critically assess how and why their relationships with Russia have deteriorated. To do this, they must understand better the perspective of Russian citizens. More than 200 attended the keynote, which was recorded live and can be watched on CSEES' YouTube channel. Following her talk, Garrels answered numerous questions from the audience and was available for a book signing.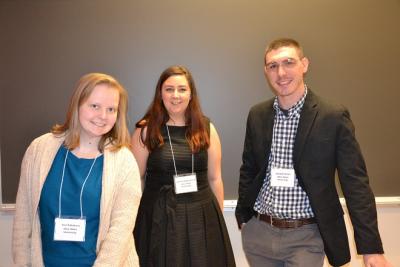 Over Saturday and Sunday, close to 25 different panels were convened with 70 different presentations, ranging from the humanities and the social sciences, to
linguistics, that covered a myriad of topics, disciplines, and countries. One of the great benefits of the Midwest Slavic Conference is that it provides a forum for young scholars to present their work for the first time and to receive feedback from the strong community of scholars active in the field of Slavic studies in the Midwest. To this end, eight undergraduate and 38 graduate students gave presentations from many different colleges and universities.
While the conference is an annual regional Slavic studies conference, participants came from all over the U.S., as well as internationally: Bowling Green State University, Brown University, Cevro Institute, Colgate University, Columbia University, Harvard University, Howard University, Indiana University, John Carroll University, Kent State University, Kenyon College, Lafayette College, Lee College, Miami University, NRU Higher School of Economics, Northwestern University, The Ohio State University, Princeton University, University of Glasgow, University of Helsinki, University of Illinois-Chicago, University of Illinois-Urbana Champaign, University of Kansas, University of Leipzig, University of Manchester, University of Missouri, University of Northern Colorado, University of Pavia, University of Pennsylvania, University of Pittsburgh, University of Scranton, and University of Wisconsin-Madison. Numerous faculty members from a similarly diverse range of institutions made presentations as well, in addition to serving on the conference committee, chairing panels, and encouraging student participation.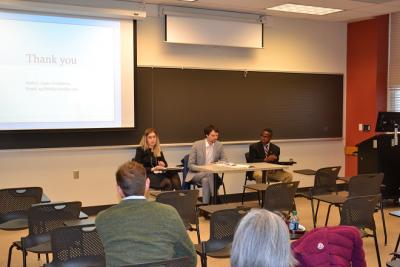 To make the conference experience even more enriching, three different special events took place. On Saturday, during the conference's lunch recess, Ohio State's
very own Resource Center for Medieval Slavic Studies sponsored a luncheon lecture that commemorated the life and work of Professor Charles Gribble who passed away in June 2016. Gribble was a faculty emeritus from Ohio State's Department of Slavic and East European Languages and Cultures who was a pillar of the Slavic linguistics field. Former students and colleagues of Gribble gave presentations inspired by or related to his work, and shared their fond memories of him.
CSEES' annual K-12 teacher training occurred Saturday afternoon and thirteen teachers from across Ohio attended. CSEES' outreach coordinator, Kathryn Metz, led the training and informed the teachers on the refugee crisis in Europe with particular emphasis on the situation along the closed "Balkan route." 
Following the full day of panels on Saturday, all students were invited to join an informal student mixer supported by the Midwest Slavic Association at the Varsity Club. The mixer was an opportunity for students from different schools to mingle, network, and enjoy conversation with peers from across the country, with more than 20 students attending.
Panels continued Sunday morning, with the conference concluding at 12:15 p.m. Attendees were invited to attend a special private tour of the "Shakespeare in Prague: Imagining the Bard in the Heart of Europe" exhibit at the Columbus Museum of Art. The exhibit was guest curated by CSEES affiliate Joe Brandesky, Ohio State professor of theatre, who led the tour. "Shakespeare in Prague" is a fascinating and beautiful exhibit that documents the connection between Czech and Slovak theatre productions and Shakespeare, and that reveals the political undertones behind many of the theatre designs of Shakespeare plays in the past century in these two countries. More details are available in the article "Czech Shakespeare Theatre Symposium in Columbus".   
Overall, the conference was a resounding success thanks to the ample support that CSEES received from the university community and partner programs throughout the state. CSEES and the Midwest Slavic Association would like to thank the following for their financial support for the conference:
Association for Slavic, East European, and Eurasian Studies
The Department of Comparative Studies, Ohio State
The Department of History, Ohio State
The Department of Slavic and East European Languages and Cultures, Ohio State
The Department of Women's, Gender, and Sexuality Studies, Ohio State
The Hilandar Research Library, Ohio State
The Mershon Center for International Security Studies, Ohio State
The Office of International Affairs, Ohio State
The Resource Center for Medieval Slavic Studies, Ohio State
The Undergraduate International Studies Program, Ohio State
Finally, CSEES would like to thank the following partner faculty for serving on the 2017 conference committee:
Dr. Brian Baer (Kent State University)
Dr. Gerry Hudson (Ohio State University) 
Dr. Brian Joseph (Ohio State University)
Sanja Kadric (Ohio State University)
Dr. Marianna Klochko (Ohio State University)
Paul Niebrzydowski (Ohio State University) 
Dr. Susan Vdovichenko (Washington and Jefferson College) 
---