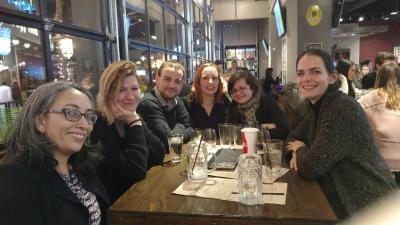 February 10–May 21, 2017
The Columbus Museum of Art is hosting an exhibit highlighting works of Czech theatre artists and designers. "Shakespeare in Prague: Imagining the Bard in the Heart
of Europe," includes costumes, stage set designs and publicity posters produced by Czech and Slovakian artists and designers for plays by Shakespeare performed in the Czech Republic. The Czech capital was one of the first cities outside England to produce Shakespeare's plays during his lifetime.
The plays — King Lear, The Tempest and many more — carried messages, often veiled, for the Czech and Slovakian people about issues such as freedom and conscience, mirroring their struggles and triumphs during the World Wars, Cold War, and the present day. Together with the museum, the exhibit was organized by the College of Arts and Sciences Arts Initiative; the Arts and Theatre Institute, Prague, Czech Republic; and the National Museum, Prague, Czech Republic.
 Joe Brandesky, former Slavic Center director and professor of theatre, Ohio State Lima, is guest-curator. To compliment the exhibit, a two-day symposium "Czech and Slovak Scenography for Shakespeare" was held at the museum on March 3-4. The event featured more than a dozen presenters from the U.S., Czech Republic, Slovakia and the UK. The keynote speech, "Spirit, Fine Spirit, Ile Free Thee: Shakespearian Spaces of Freedom on the Czech Stage," was delivered on March 3 by Pavel Drabek of Hull University, UK. The symposium was organized by Professor Brandesky along with colleagues from Villanova University and three international institutions. The Slavic Center was a major sponsor together with the Department of Slavic and East European Languages and Cultures, the Department of Theatre, and Ohio State Lima Campus.
---