Across the state of Ohio, numerous colleges and universities teach the Russian language, and several secondary schools do as well. To help highlight these
programs and give students an opportunity to show off their speaking skills, the Center for Slavic and East European Studies is involved in organizing high school and collegiate level Russian speaking competitions.
My Experience at the 2017 Undergraduate Olympiada of Spoken Russian
By Matthew Duncan, senior at Ohio State University
The Undergraduate Olympiada of Spoken Russian was a great opportunity to meet other Russian students, network with professors and practice Russian speaking skills. At first, I didn't know what to expect, but once the opening ceremony started and the first activity had begun, everything went smoothly. Russian students were divided according to level — first through fourth years as well as heritage speakers — and assigned different rooms in the student union at Bowling Green State University. In my group, we lined up in a hallway one after the other in front of two judges to recite the poem each of us had selected.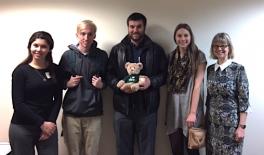 After the poetry recital, we were directed to an office building across the way to have lunch. Bowling Green kindly provided a free meal for all participating students,
so everyone had a chance to get to know each other a little more. I found it interesting to hear about other participants' diverse reasons for learning Russian. Once lunch was over, we headed back to the student union to complete the last two tasks, consisting of an oral interview and a presentation. This time, my group gathered in a lobby upstairs, waiting for a turn to sit down with two new judges. Topics of discussion for each group were different; in my group, they ranged from "What is your name? What do you study?" to "Do you think it's more important to learn Russian handwriting, or to type on a Russian keyboard?" In addition, two presentation topics were drawn at random, and we were given the choice to present on one of them.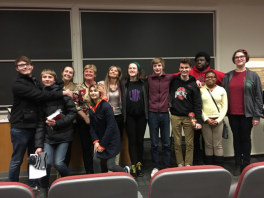 After all groups had finished, certificates were handed out, winners were announced, and prizes were awarded, which included a selection of books provided by
Ohio State's Center for Slavic and East European Studies. Overall, the Undergraduate Olympiada turned out to be a wonderful activity for all students involved. Personally, I would encourage any and all Russian students to participate if they have the chance; even if they feel their Russian skills are not up to par, at the end of the day it is secondary to the opportunity to connect with other students with similar interests. Unexpectedly, I found the Olympiada can also be a suitable venue for academic and professional networking, so students looking to use Russian in their future career might be able to make some helpful contacts here.
The Undergraduate Olympiada of Spoken Russian was held on Saturday, February 25 and hosted by Bowling Green State University. Close to 60 students from Bowling Green, the College of Wooster, Kent State, Oberlin College, Ohio State, Ohio University and Wayne State University participated.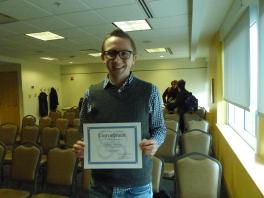 Level 1
Daphne Letherer, 1st place, College of Wooster           
Kristina Denbow, 2nd place, Ohio University            
Samantha Jones, 3rd place, Ohio University
Level 2
Meghan San Gregory, 1st place, Bowling Green        
Miranda Kolker, 2nd place, Bowling Green             
Erin Tupman, 3rd place, College of Wooster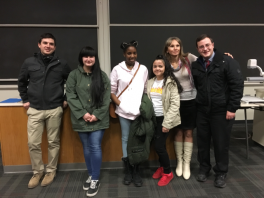 Level 3
Ross Gitford, 1st place, Ohio University
Rowan Crosswell, 2nd place, Ohio State             
Timothy Tilton, 3rd place, Bowling Green
Level 4
Matthew Duncan, 1st place, Ohio State      
Sarah Chatta, 2nd place, Oberlin College
Kyle Wade, 3rd place, Kent State University
Heritage
Isabella Zelichenko, 1st place, Oberlin College
Mark Knicely, 2nd place Bowling Green
Michael Abelev, 3rd place, Ohio University
OSU Hosts K-12 Russian Language Olympiada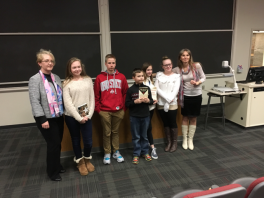 By Kathryn Metz
The Department for Slavic and Eastern European Languages and Cultures (DSEELC) and the Center for Slavic and East European Studies (CSEES) hosted the annual K-12 Russian Olympiada on Saturday, March 4 at Mendenhall Laboratory. The event was well attended by students and teachers from four Ohio schools, including: Columbus North International School, Walnut Hills High School, Start High School and Russian Education Center Bookvarel.
The students eagerly awaited their turn to demonstrate their Russian knowledge as they competed in one of five levels based on their language skills. Graduate students from DSEELC and CSEES graciously volunteered their time to serve as judges and assess the language skills of the participants. After combining the scores of the three commissions for all the contestants, prizes were given to the top three competitors in each level. 
The event concluded with a pizza lunch and a short lecture by Professor Yana Hashamova, who congratulated the students on their hard work and encouraged them to continue studying Russian. She explained that with diligence and persistent study, there will be many travel and funding opportunities available to them if they continue to pursue Russian language study at the collegiate level. The students left the Olympiada inspired and motivated to continue their hard work in Russian.
---