Transnational Connections between Conservative Groups in the U.S. and Russia
By Kathryn Metz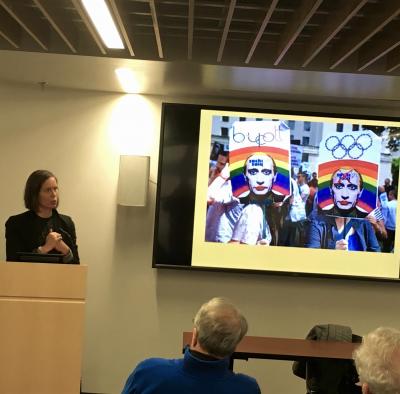 Dr. Jennifer Suchland delivered the first CSEES lecture of 2018 titled "Russia and the 'Alt-Right' – Transnational Connections" on January 31. She reflected on the East/West binary that has always been problematic because it precludes the possibility to examine the nuanced entanglements between Russia and the U.S.
She began by discussing the foundational value of the alt-right in the U.S., namely a belief that white identity is under threat and a denouncement of multi-culturalism, as well as the history of Soviet socialism, which was a hybrid of liberal social values of multi-culturalism and gender equality, but conservative in terms of one-party political system. Since the fall of Soviet socialism, the political culture in Russia has been moving to the right, as anti-communist political views in Russia included a disavowal of liberal social values. It is at this juncture that the American alt-right and Russian political elites find commonality and a mutual interest in upholding similar social values that promote nationalism and ethnocentrism.
Suchland offered several examples of how Russian political elites have cooperated with American alt-right leaders. For example, Scott Lively, an American anti-LGBT activist wrote letters to Russian people to promote extreme anti-LGBT laws, as well as Richard Spencer's connections to Alexander Dugin. The U.S. alt-right members believe Russia to be the largest white nationalist country on the planet and David Duke has said that Russia holds the key to white survival. Such views, however, overlook Russia's diverse ethnic makeup and alternative discourses that are occurring in Russia outside of the nationalist rhetoric that promotes white-Russian homogeneity and homophobia. Suchland claimed that the alt-right has appropriated 'White Russia" for political motives.
Current Events in Ukraine
By Eileen Kunkler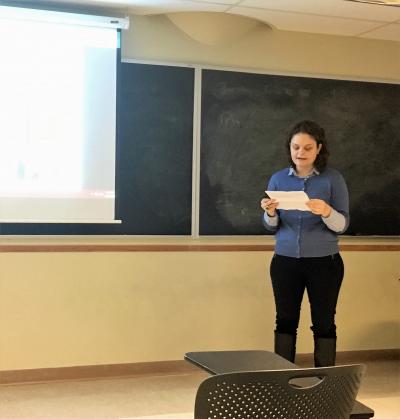 Dr. Svitlana Babenko, a professor of sociology at Taras Shevchenko University of Kyiv, visited campus for a week in February. On February 22, she gave a lecture to campus students and faculty on current developments in Ukraine. Focusing on the protests of the Maidan movement, Babenko provided data on socio-economic factors that she believes are root causes of discontent with politics in Ukrainian society. In comparison to other post-Soviet countries and states in Europe, the average Ukrainian's salary has grown only modestly or even decreased when controlled for inflation over the past two decades, and the economy has not diversified into new industries or provided more white-collar jobs. Babenko also discussed the hardships and realities that face the estimated more than a million internally displaced people (IDPs) from conflicts zones in Ukraine. Some residents of conflict zones in Ukraine have fled to other parts of the country, others have gone to neighboring regions in Russia, while others have had to choose between staying in Ukraine under occupation by Russia with limited rights, or to move elsewhere. Each of these sets of people have faced their own unique challenges as they try to find a sense of normalcy or to rebuild their lives. One positive idea that Babenko argued was the response of civil society during this challenging time for Ukraine. Many civil society groups have taken on large roles in helping IDPs and providing aid to people within conflict zones.
The Effect of WWII on Children in the Soviet Union
By Katie McAfee
Every year the graduate students of the Slavic Center nominate and vote on a Graduate Student Choice Speaker to host for a spring lecture. This opportunity to help plan one of the Center's events is a highlight of each academic year. This year we hosted Dr. Julie deGraffenried, a history professor from Baylor University. Her research focuses on Soviet children's history and culture particularly during World War II. Dr. deGraffenried was my professor and advisor when I was a history major at Baylor. Her engaging teaching style and recently-published book — Sacrificing Childhood: Children and the Soviet State in the Great Patriotic War — made me think she would be an excellent Graduate Student Choice Speaker for the Slavic Center. In February, she delivered a talk entitled "Scripting War: Soviet Children, Identity, and Culture in the Great Patriotic War" in which she discussed conceptions of national identity disseminated to Soviet children during the war via the children's radio program Pioneer Dawn. In her vibrant talk, she addressed these issues from the perspective of the state, as well as in terms of the lived experience of Soviet children.
Changes in Serbia since 2000
By Kathryn Metz
The 2018 Graduate Student Lecture was delivered by Budimka Uskokovic, a PhD candidate in the Department of Germanic Languages and Literatures, on Thursday, March 29. In the presentation titled "Social and Cultural Changes in Serbia, 2000-Present" she discussed changes that have occurred in Serbia following the October 5, 2000 overthrow of Slobodan Milosevic.
Uskokovic used recent statistics to illustrate how public opinion is changing in Serbia in relation to European Union membership, perceptions of corruption, and economic development. She discussed how attitudes toward EU membership have had sharp rises and falls in the last ten years in Serbia, with 73 percent supporting membership in 2009 and less than 50 percent in favor of it in 2015. She emphasized that corruption is the most acute problem in the eyes of the Serbian public. While there is economic development in Serbia due, in a large part, to foreign investment, there is still over 14 percent unemployment in the country.
Her lecture acquainted the audience with a broad overview of how things have changed in Serbia since the fall of Milosevic and how Serbian citizens are perceiving these changes. 
---